I'm not normally a fan of Death by Amazon conspiracy theories, except in cases where the victim is better off dead.
Amazon.com is reportedly working on an ad-supported video service. The project, branded under its IMDB subsidiary, would feature older television shows and movies.
This sounds a lot like regular television by design. Amazon wants to get into the TV business because that business model is broken, and vulnerable. It needs to die.
It's also a great way to lure more customers to the Amazon Prime platform.
However, Amazon is not the only big technology company circling ad-supported and cable TV.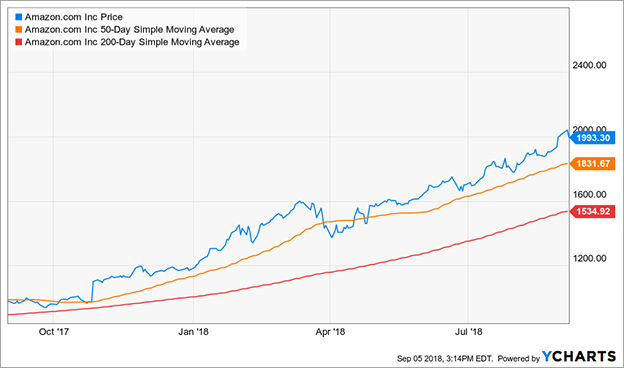 Amazon.com shares are up 70.44% year-to-date. My Tech Trend Trader subscribers have a current open gain of 207.3%.
Alphabet is making inroads with YouTube TV, a subscription based service that uses the popular video sharing site to deliver live local content, and cable networks a la Netflix (NFLX). Customers pay a monthly fee and get five accounts capable of streaming content based on user interests to any screen, any time.
Roku (ROKU) has built an empire by reinventing the basic TV experience. The independent video streaming company is turning its popular set top boxes, sticks and website into an open platform for content providers to reach customers who want to cut the cord from cable providers.
Even Facebook (FB) is getting into the game with Facebook Watch, its video on demand service.
Technology firms are disrupting ad-supported TV because the business does not work for advertisers.
Alphabet, Amazon, Facebook and Roku can offer better data analytics, and more targeted ads because they know exactly who is watching, what programs they have viewed in the past, their interests, gender, age and everything else contained in the respective knowledge graphs.
By contrast, regular TV has the Nielsen ratings, a scattershot sample of the audience. Broad, analog demographics are no match for the accuracy digital business models bring.
Competitors, especially traditional TV providers, are correct to fear Amazon. In Amazon Web Services, the company has the bandwidth, software talent and drive to build a great product. In Amazon, it has a vast, loyal network of 100 million Prime subscribers. It also has greater access to cheap capital than any company in history.
According to Bloomberg reporting, Amazon is in talks with at least two Hollywood studios about bringing more feature films to its Prime streaming service. Sources suggest Amazon may go to the usual step of offering to co-finance feature films for early access to higher quality films.
Amazon is also pushing hard into sports broadcasting. CNBC confirmed the online giant has recruited Marie Donoghue, a former executive vice president at ESPN. Donoghue joins a sports marketing team that has inked deals with the NFL for Thursday Night Football streaming rights, U.S. Open tennis and selected PGA golf tournaments.
All of this fits well into the larger Prime business model. The goal is to lure Prime subscribers onto the platform with plenty of perks like video and music streaming, digital storage, fast free delivery and access to prime deals.
Amazon knows from its research that Prime members spend more and have greater loyalty to the brand. They are also first in line to try new products, like the Alexa digital assistant.
Attacking the TV business model with a free, ad supported service is a good way to attract more potential Prime members. It helps that ad supported TV needs to die, anyway.
Continue to buy Amazon into weakness. The scope of its next-generation business is only beginning to take shape.
Best wishes,
Jon D. Markman