I like market "tells." It makes all the sense in the world to let the market tell you what stocks it likes. I try to listen without bias, weigh the evidence and then decide if I agree.
One of the market's obvious tells is that it really likes Adobe Systems (ADBE). The company famous for its Photoshop software and bringing Portable Document Format (PDF) files to the market has reinvented itself.
The reinvention process was supposed to be painful. But business has never been better. And now, shareholders are reaping the rewards.
Adobe has always made best-in-class software. Back in the day, creative professionals were nothing if they had not mastered Photoshop, Illustrator and Premier Pro. These software tools quickly became industry standards in the emerging digital world. They were expensive, too.
A copy of Photoshop ran $1,900. Professionals, all 12.8 million of them, bit their lip and paid the price.
In 2011, Shantanu Narayen, the chief executive officer, decided to change the way Adobe delivered software to its customers. The company nixed its shrink-wrapped boxes and optical CDs, and went to a cloud-based, subscription model. Photoshop licenses dropped from the cost of a used Toyota to $50 per month.
Initially, professionals were not happy. They didn't like the idea of not owning their tools.
However, Narayen was betting the lower entry price would fundamentally change the composition of customers, and foster interest among non-professionals.
He was right. In the middle of 2011, new subscriptions began to accelerate. Adobe customers were buying into the Software-as-a-Service business model.
The stock price bottomed in October 2011 at $22.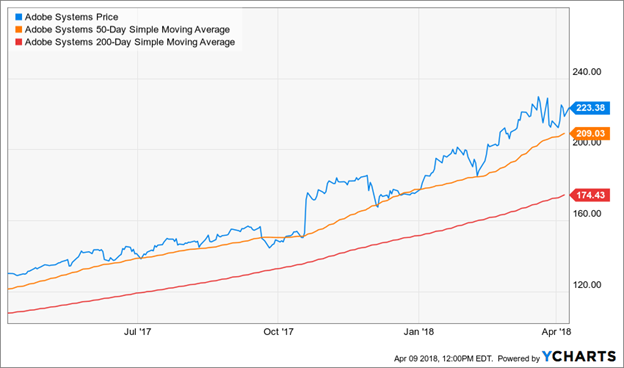 Adobe shares hit an all-time high just below $230 last month.
Today, the Adobe Creative Cloud is a full suite of cloud-based tools. Titles include Photoshop, Illustrator, Premiere Pro, Photoshop Lightroom and InDesign. Monthly subscriptions run from $9.99 all the way up to $79.98 for the full package.
The software is always up-to-date, and company engineers are constantly improving features.
Adobe Sensei an artificially intelligent bot that can enhance digital content simply by "seeing" the work created inside any of the software applications. Adobe engineers call Sensei "magic."
The real magic comes from the top. Company managers saw that core Adobe products could appeal to a wider set of customers. Managers then completely revamped the business model to find those buyers.
In the process, they made the business 10 times more valuable.
In March, Adobe released its most recent quarterly financial results. Revenues surged to $2.08 billion, up 24.2%. Digital Media, which includes creative cloud subscriptions, had sales of $1.23 billion, up 28%.
New annualized recurring revenues reached $336 million.
Digital Experience, a suite of professional services aimed at enterprises, had sales of $554 million, up 15%.
The experience cloud includes data analytics, social marketing, media optimization, cross-channel campaign management and monetization. Some of these categories did not even exist in 2011.
And all these businesses are booming. That might be why the stock price is not faltering, even as the overall market weakens.
Great niche businesses with skilled managers is a common trait of companies I call The Power Elite. These managers find ways to win by building competitive advantages through innovation, strategic acquisitions and staying focused on growing the business.
The management style reminds me of Domino's Pizza (DPZ).
Most people would not make the connection. But while most pizza businesses have been diversifying away from pizza, Domino's found a way to reinvent the distribution process and dramatically grow its business. Managers made getting a pizza as easy as ordering an Uber, with a best-in-class smartphone app, data analytics and rewards program.
It seems simple. But none of their competitors were able to do it. They didn't think that far ahead.
And those same competitors are continuing to fall far behind in terms of delivery. Domino's has a pilot program in Florida, in partnership with Ford (F), that will eventually use self-driving vehicles to deliver pizza. Sure, mass delivery is probably far off, but think of the free publicity now.
Domino's shares are still trading very near their 52-week high at $236. Over the past year, the stock is up 33%. Papa John's Inc. (PZZA), a leading rival, is down 22%. Meanwhile the S&P 500 is up about 12.3% in the same time frame.
This is not an accident. Choices matter.
I'm not suggesting the share price tells all. But as an investor, you are wise to at least listen to what the market is saying.
Best wishes,
Jon D. Markman