The Nasdaq hit new record highs this week, for the first time since March. The usual suspects, the FAANG stocks, helped lead the way higher.
But it was two of its component stocks, Align Technology (ALGN) and Illumina (ILMN), that saw their own shares hit all-time highs.
Now, these aren't the first names investors think of when they hear the tech sector is marching higher. But that's part of what makes them so attractive. Well, that and the fact that they — unlike many other stocks in the market — deserve to be rewarded with higher share prices.
Long ago, Align and Illumina discovered the secret to building a winning business. The secret is focus.
It seems simple. It kinda is. That is the beauty of it all.
These companies operate in well-defined niches. They dominate them. And shareholders have made out like bandits.
Align: Straightening out
Crooked Customers
Align makes invisible orthodontics. The devices look like the mouthguards you might pick up for your daughter for karate.
Looks can be deceiving.
In reality, the guards are thinner, lighter … and packed with technology.
Align has spent the better part of two decades working out the kinks. In the process, it built a mountain of patents, and a state-of-the art 3D printing technology.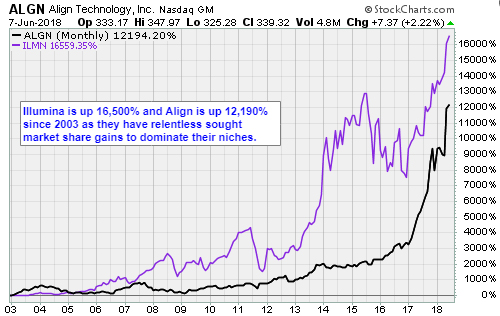 Click image for a larger view.
Illumina: Lighting the Path
to Personalized Medicine
Illumina got in on the ground floor of genetic research. The company makes the machines and software tools that researchers and scientists use for genomic sequencing. In this new era of powerful networked computers and machine learning, that business is taking off.
It helps that Illumina is continually reducing the costs of its services. In 2010, the cost of sequencing a human genome was $44,000. Last year the cost was $1,000, and Illumina wants to push the price closer to $100.
That is actually the secret to its success.
How They Can Make
the Business Magic Last
Many investors make the mistake of assuming the best businesses are making and selling high-margin goods to an endless array of aspirational customers. In fairness, that is a great gig, but it's not usually enduring. There are not many companies capable of doing what Apple (AAPL) and Nike (NKE) do on a long-term basis.
A better strategy is complete market saturation.
Related story: Apple's Stunning Lack of Innovation is Depressing
Managers at Align and Illumina grow their businesses by constantly innovating, then use economies of scale to reduce prices for their customers.
This has the effect of pushing competitors out of the market because their return on investment is always under pressure.
When competitors do stubbornly remain, Align and Illumina buy them out. It's vicious … and great business.
It's a page out of the robber barons …
Stories of Andrew Carnegie and John D. Rockefeller are often colored by tales of child labor and squalor. However, the most enduring business practice was relentless horizontal and vertical integration, and lower prices.
Carnegie Steel and Standard Oil won because their cohorts could not compete — no matter how hard they tried.
These Growth Companies
Just Keep on Growing
Last month, Illumina bought Edico Genome, a San Diego startup that makes silicon with proprietary algorithms to speed up the processing of bioinformation. Its system can cut genomic sequencing from days, to 20 minutes.
In 2016, Align settled a lawsuit with Smile Direct Club, an online DIY clear aligner system. The company had been mired in litigation with Align for years. It was also the only true competitor. The settlement led to Align buying 17% of SDC. It also got a member on the board of directors, and became the lone provider of clear aligners to SDC.
Align plays hardball. It's how the company garnered 80% of the North American market for clear aligners.
At the heart of the company is a set of proprietary algorithms based on machine learning. Building a sparkling smile involves shifting teeth millimeter by millimeter in a very orchestrated way.
The math is difficult. It changes for each new patient. Align's models dictate how that will happen. They predetermine the series of plastic molds patients will wear 22 hours per day for the next 13 months.
Illumina has a similar story. It holds 70% of the worldwide market for genomic sequencing.
Most patients currently diagnosed with cancer undergo a battery of oncology tests. They usually end up with chemotherapy, a one-size-fits-all treatment that carpet-bombs everything. Good and bad cells die indiscriminately. Illumina makes the machines and software that allow researchers to build smart bombs. Bespoke concoctions locate the mutation at the cellular level, and correct the abnormality. Then they calibrate the dosage based on personal genetics.
Both Align and Illumina found their niche and dominated with strategic acquisitions … aggressive investments in research and development … and relentless price-cutting.
Now these companies are dominating sectors with very bright futures.
Align sports a market capitalization of almost $28 billion. Sales grew 36% in 2017, to $1.47 billion. The shares are up 56% this year, and have risen an average of 27% annually since 2003.
Illumina has performed even better. The stock is up 30% this year, and 39% annually over the past 15 years. At a $42 billion market capitalization, the stock is not expensive given the market for genomics research is blasting off.
Both are still good buys for the future.
Best wishes,
Jon D. Markman
P.S. My subscribers are sitting on a 30.7% gain in Illumina and 27% in Align Technology. The latter is just since I recommended it six months ago! You can buy these stocks on pullbacks. Or you can have my timely buy and sell signals sent straight your inbox. That way, you know exactly what to buy, when to cash out and what opportunity to pounce on next. Click this link here to see how you can get on the list.