I have a confession. As an investor, I don't like surprises.
S&P Global (SPGI) has been around for 150 years. This company is best-known as the keeper of the Standard and Poor's Indexes. It collects, packages and sells data that has become indispensable to the financial services industry.
This has been a solid, predictable business. Next up, the company plans to leverage its stalwart reputation for the future of data. And to the glee of its shareholders, S&P Global is likely to win this bet.
The company has been here before …
In 1888, James McGraw purchased the American Journal of Railway Appliances. Twenty-one years later, he and John Hill, a 51-year-old Vermont publisher of technical journals, merged their operations.
The McGraw-Hill Book Co., the new business, would quickly grow to become one of the leading publishers in the country.
It was an age of invention — jumpstarted by the buzzing of electricity and enterprising young men and women. It was a good time to own printing presses and distribution networks.
McGraw and Hill were in the right place at the right time.
And it's happening again.
Today, S&P Global operates in four business segments.
Its Credit Ratings business attempts to make sense of the complexities of financial instruments for investors and issuers.
The Market Intelligence and its Platts segments offer market, derivatives and commodities data to investment managers, banks, private equity, insurance and other financial entities on a subscription basis.
And its Indexes business manages and creates investable indices, then collects licensing and subscription fees.
What separates each of these segments from would-be competitors is familiarity, and reputation. S&P Global has been providing the same data to many of the same clients for decades. The information is considered without rival. Customers are steadfast.
All of this comes as both retail and institutional investors move aggressively toward passive investments, like Exchange-Traded Funds that track the indexes.
In the first quarter of 2018, $1.6 trillion flowed into passive investments, while $1.3 trillion flowed from the coffers of active money managers.
Indexes are the fastest-growing part of S&P Global. First quarter revenue surged 25% to $214 million, year-over-year. The catalyst was a 59% increase in its ETF and derivatives businesses.
The company benefits from creating indexes and derivative products. These are sold directly to large investment management firms and leading exchanges. Vanguard, Blackrock, the Chicago Board Options Exchange, and CME Group have built vibrant financial products using S&P Global data.
According to a May 2018 investor day presentation, its products are used by 90% of the top asset managers. Some $13.7 trillion is parked in S&P Global indexes like the S&P 500 benchmark. And that company has the potential to exploit derivative products for all of the sub-indexes.
Possible new sources of revenue are endless, because investors would rather buy indices.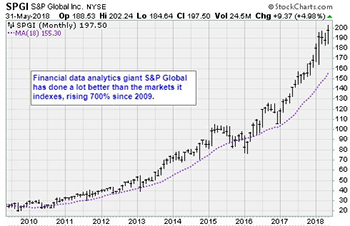 Click image for a larger view.
ETFs offer benefits beyond lower cost of ownership. They are accessible because they have been adopted by the mainstream. Consequently, they have greater liquidity and more stable bid/ask spreads.
That stability has allowed S&P Global clients to build more innovative digital products.
It's all weirdly circular, and predictable. There is also no end in sight. That is very good news for S&P Global shareholders.
And the company is refining all its core businesses with machine learning.
Its Kensho acquisition will bolster core artificial intelligence capabilities. It will also allow S&P Global to build new value-added products with hefty profit margins.
Since 2011, revenue at S&P Global has risen from $3.8 billion, to $6.1 billion in fiscal 2017. It has been a steady 7% compound growth rate, without surprises. Operating margins have risen consistently, at the same time the number of shares outstanding has fallen.
There is a message in the numbers: Managers are taking care of shareholders.
The share price reflects this. The stock is up 18.3% this year, and an average of 30.2% over the past five years.
To put that in perspective, $10,000 invested in 2013 is worth $37,415 today.
Despite this, S&P Global is only a $50 billion business, trading at 21 times forward earnings. Given the consistency of growth, that is fair.
The bottom line is there is nothing wrong with predictable. It is surprising how fast profits add up.
Best wishes,
Jon D. Markman