Apple
Apple's iPhone Update Is Minimal … But Shareholders Shouldn't Care
Apple (Nasdaq: AAPL) unveiled the new iPhone 13 at yesterday's launch event. And the company that always delivers a surprise did so again … by releasing a new phone that looks a lot like its predecessor.
The upgrades are mostly internal or superficial. The 13s come with bigger batteries, faster screens, improved cameras and lots of new color options.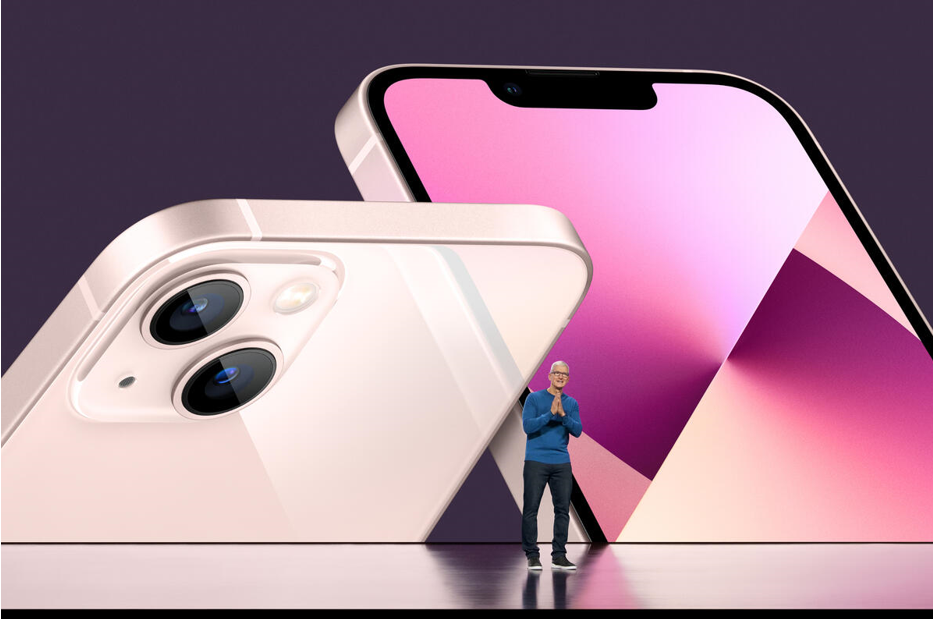 Apple CEO Tim Cook speaks at yesterday's Apple Event Source: Apple
But those who expected the "Think Different" company to reveal something completely different didn't feel like they got that this year.
Most years, you can count on Apple shares to go up around this event. But since the news came out about the minimalist updates, the stock has been flat to down.
For tech enthusiasts, this news was thoroughly depressing. But true Apple bulls have a much different take.
That's because it was exactly the right amount of innovation to maintain the iPhone's competitive edge.
•  This should also help the company further its chip ambitions.
That's where the big payoff should be for shareholders.
Related Post: Take a Bite Out of Apple as iPhone Sales Are Set to Soar
Why It Pays to Stay an Apple Bull
Presenters at Tuesday's events gave a masterclass in the art of selling. It was our annual reminder that Apple has plenty of advantages – from loyal customers to products with a great deal of cachet to a world-class team that knows how to sell them — and uses every single one of them.
The iPhone Pro now comes with a camera lens that's encircled with chrome accents to complement the pink, graphite, gold, silver and "Sierra Blue" color finishes. This theme was echoed in all the other Apple product refreshes:
•  The new iPad has the same design and still supports all older accessories.

•  The redesigned iPad mini was promoted as an all-screen device, but its nearly half-inch bezels tell a different story.

•  And the Apple Watch Series 7 also has a bigger screen. This time, designers actually did shrink the bezels. And they gave it some new colors, too.
I'm not dismissing the achievements of Apple engineers. The company makes the best processors in the industry.
That's a big advantage, too … one that will transform its business for the better.
Related Post: Swipe Right for Match After Apple's Legal Setback
More Powerful Than the iPhone
Apple's latest A15 Bionic processor is based on the state-of-the-art 5-nanometer process, and packs 15 billion transistors with a six-core CPU, two high performance cores and four power efficiency cores.
Its GPU has four cores that Apple chip designers claim are 30% faster graphics than the leading competition.
The A15 system-on-a-chip (SoC) also has an improved Apple Neural Engine (ANE).
It's capable of performing 15.8 trillion operations per second — better than the 11 trillion operations per second benchmark set by its predecessor, the A14.
•  And that's sort of the point.

•  Meanwhile, Samsung makes devices that, in many ways, are technically superior to iPhones … yet many smart device buyers never give them a look.
Samsung is — by far — turning out the most innovative devices. The Galaxy Z Flip and Galaxy Z Fold have folding glass screens … best-in-class displays with high refresh rates … and new hinge systems that are engineering marvels.
But due to Apple's dominance over the industry, these incredible strides for innovation don't stance a chance.
It must be frustrating to be an executive at the South Korean tech company.
That's because, beyond its processor ambitions, Apple is never pushed to make TRULY innovative products. Yet, it is the most profitable consumer electronics company in the world.
•  But it's the best of all worlds for shareholders.
iPhone sales give Apple executives the wherewithal to continue vertically integrating in-house designed processors across the company's product categories. That is a powerful competitive advantage that will lead to much larger profit margins down the line.
The stock trades at only 26 times forward earnings and 7.3 times sales. Current gross margins are 41%. This is certain to increase as Apple silicon moves to its computer lineup.
With shares treading water after the September iPhone reveal, savvy investors should strongly consider using this period of weakness to accumulate shares.
Apple is one of several profitable positions in my Weiss Technology Portfolio.
Weiss Technology Portfolio is chock-full of companies big and small that know how to turn innovation into investment gold.
To get on the list to receive my timely tech buy and sell signals, click here.
Best wishes,
Jon D. Markman