Big Tech
Digital ad businesses know what you did last night
Most consumers don't know it, but they are pawns in a larger debate over privacy.
The popularity of Foursquare — a mobile app that lets users "check in" to locations and recommends other local restaurants and events of interest — may have faded. But its location-tracking tech is alive and well, according to a recent Wired story.
In fact, in the age of information, this quirky New York tech company is building a data empire.
Foursquare is also giving alternative digital a new lease on life.
Ten years ago, Foursquare City Guide was the talk of Austin's South by Southwest conference. Dennis Crowley, the company's founder, pitched its namesake mobile app to festivalgoers as the future of location tracking.
In hindsight, it was creepy. But smartphone culture was still in its infancy.
The app has since disappeared from most smart devices. People no longer think it's cool to be tracked everywhere they go.
However, as Wired notes, this is exactly what's happening.
Foursquare location tracking lives in everything from Apple Maps to Tinder, Uber and WeChat. Every Samsung phone, for example, uses its APIs to set geotags for photography.
Those APIs are part of Pilgrim — a passive, always-on, detection engine.
Foursquare launched a software developer kit in 2014, and it has been a big hit. It uses your phone's radios and sensors to pinpoint your location … and send it back to Foursquare servers for data analytics.
Jeff Glueck, the current chief executive officer, told CNBC last November that its data reach is rivaled only by Alphabet (GOOGL) and Facebook (FB).
These days, there is plenty of talk about data and privacy. Regulators in Europe implemented the General Data Protection Regulation in May 2018. The legislation set strict rules to ensure consumers have better control of the data they create online. It also sets up a framework to fine tech companies for violations.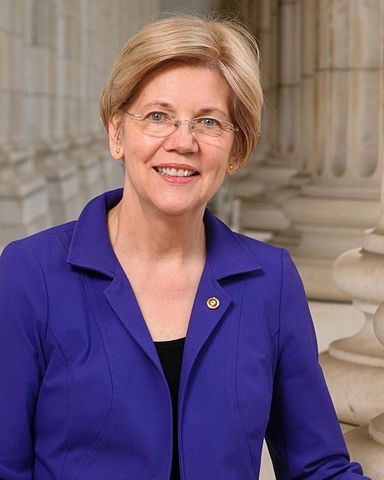 Sen. Elizabeth Warren, who proposed and established the Consumer Financial Protection Bureau, is now calling for the breakup of the biggest Big Techs.
This path appeals to Sen. Elizabeth Warren (D-Mass.).
The presidential candidate was at SXSW last weekend. She is touting proposed legislation that would break up big tech companies like Alphabet, Facebook, Amazon.com (AMZN) and Apple (AAPL) under the rubric of antitrust law.
Warren argues these companies are exploiting data collection to create monopolies that harm smaller businesses and consumers.
Amazon.com is a platform for sellers to market their goods. But Warren reckons the online retailer is using all the data it collects from customers to build competing products.
This, she believes, is an unfair advantage.
It's a slope as slippery as Beacon Hill in January.
There are many ways to collect customer information. Platforms are arbitrary. Is Costco (COST) harming small businesses and consumers with its Kirkland brand of steaks, sauces, golf balls and stockings?
There is also the problem of unintended consequences.
Vera Jourova, European Commissioner for Justice and Consumers, tells the story of traveling to Silicon Valley to meet with Alphabet and Facebook executives ahead of the GDPR.
She was shocked they were not nervous about oversight.
Related post: Google, Facebook will be surprise winners from new privacy rules
Jourova should have seen this coming.
Big tech has everything to gain by erecting barriers to keep small, nimble competitors out of the marketplace.
European regulators did them a favor.
Investors should welcome the debate about privacy. They should look forward to politicians full of bluster and far-reaching plans. It removes investment risk. It solidifies platforms.
Digital advertising is a fast-growing, vibrant ecosystem. Firms like Foursquare made it effective. Ad technology companies it measurable.
In many ways, Rubicon Project (RUBI) mirrors Foursquare …
Following a series of acquisitions and high-profile deals, the programmatic advertising firm was top-of-mind.
Rubicon's business was making digital ads relevant. And for a few months in 2012, in terms of reach it was the top-ranked digital advertising company, ahead of Google.
Shares debuted on the New York Stock Exchange in 2014. However, only two years later, changing mores pushed it into the ad-tech apocalypse.
Ad Age reporters made sense of the decline. People grew weary of ads with sound, popups and trickery to obscure legitimate content.
So, ad buyers fled to the relative safety of Google and Facebook properties. And because firms like Rubicon had no access to that content, its business suffered mightily.
Fast-forward after some major business model tweaks. During the fourth quarter of 2018, Rubicon Project sales grew 32% year-over-year, to $41.4 million. This was the first increase since Q3 2016. The company struck partnerships with Google and Amazon for header ad bidding.
Rubicon shares are up 85% in 2019. They now trade at 2.7x sales. The market capitalization has reached $356 million.
While I normally steer clear of small-cap stocks, Rubicon is attractive because of its turnaround potential and the health of the programmatic advertising market.
RUBI currently trades just under $7 per share. Aggressive traders could consider buying a pullback to around $5.
With a little luck and perseverance, this stock could reach $12 during the next three years based on industry trends.
For more picks like these, consider taking my Tech Trend Trader newsletter for a test-drive. I'll tell you what to buy, at what price, the best time to cash out, and where you can redirect your winnings. Click here to start your membership today.
Best wishes,
Jon D. Markman