Follow the AI Money Trail to This Analytics Firm
There's a hiring boom happening now. And the skillset in highest demand? Artificial intelligence programming.
AI is one of the four most profitable megatrends that will shape the market in 2020 and beyond. Dr. Martin Weiss' 2020 Preview: Megatrends and Megaprofits video details all four of those megatrends PLUS six surprising forecasts that will help you prepare for the coming decade.
The only way to get all this valuable information is to watch this urgent briefing. Click here to view it now.
Students are also preparing for the next decade. They're doing so by following the money and specializing in AI. Hiring for artificial intelligence specialists surged 74% during the past four years, according to professional social media site LinkedIn. The trend is clearly accelerating, with more positions for job seekers and rising wages.
Investors should follow the money, too. Riches lie ahead.
AI has become mainstream. The idea seems simple enough: Program computers to learn like humans so data processing becomes more efficient.
The concept hit home in 2011 when Watson, an IBM (IBM) supercomputer, was prepped to compete against previous Jeopardy champions. It was great TV. Watson was represented as cute voice and a blue screen. When Ken Jennings, a 74-time champion, meekly surrendered to what he called the new computer overlord, a future of machine domination seemed assured.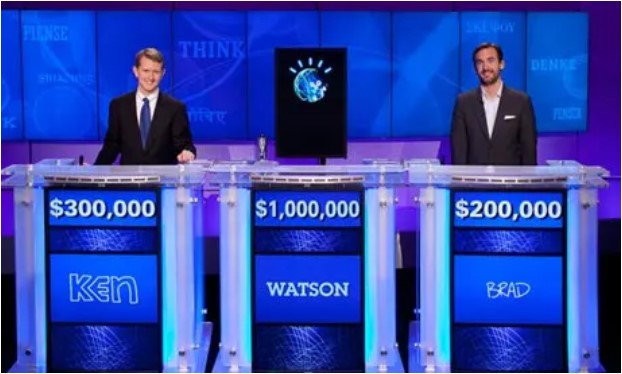 Watson competes against Jeopardy champions Ken Jennings and Brad Rutter. Source:
AP / The Guardian
Sadly, Watson was a mirage. Behind the made-for-TV optics, a room full of microprocessors, severs, switches and software hummed along frantically. Victory was more brute force than finesse.
Even today, AI is a work in progress. And this progress is starting to generate results.
Related post: Digital Transformation of Business Creates Dazzling New Winners
This is the third consecutive year that an AI related job has topped the LinkedIn emergent jobs list. All in, 7 of the top 10 job postings are related to data and digital transformation.
And MarketWatch reported that Indeed, another career site, lists "machine learning engineer" as its fastest-growing career. Job postings for this position increased 344% over the past three years.
That jibes with research from McKinsey and Co. The consulting firm notes that 83% of the firms its analysts surveyed expect to retrain workers during the next three months because of AI adoption. Nearly 60% of respondents have retrained workers during the last year alone.
Their problem is building scale.
McKinsey noted in November that corporate investment in AI grew 25% year-over-year. But real winners are few and far between as companies struggle to build enough scale to make an impact on the bottom line.
We have seen this play out in real time this year. Home Depot (HD) and McDonalds (MCD), both early adopters of AI, machine learning and system-wide data analytics, have struggled to make a worthwhile return on their investment.
Home Depot set out an ambitious strategy to help shoppers find what they are looking for using mapping, augmented reality and chat bots. All that data coordinates with powerful backend databases that track all inventory in real-time.
McDonalds started with self-serve kiosks and smartphone ordering. The fast food giant announced in September a plan to use AI to automate its drive-through experience.
The knee-jerk reaction from stock market investors has been big share price declines for Home Depot and McDonalds. A sector-wide devaluation of enterprise AI companies quickly followed.
However, closer inspection of the LinkedIn data suggests that conclusion may be in error.
Companies are more committed than ever to AI and digital business strategies. From automotive to manufacturing, telecom and financial services, managers are betting big that a better understanding of data will improve the bottom line.
Related post: Why Alteryx is on Every Analyst's Holiday List
Investors shouldn't give up on this trend. They should use any weakness to pick up the shares of leading AI companies and the firms that will benefit most from implementing these inevitable new digital strategies.
Jabil Inc. (JBL) is at the vanguard of the new manufacturing revolution. As a premier design engineering services company, this St. Petersburg. Fla., firm helps enterprises develop new materials, build better factories and streamline their supply chains using data.
And with 170,000 employees worldwide, Jabil has the scale and expertise to help firms across several sectors.
The company has operations in 30 countries. Design engineering teams partner with healthcare, life sciences, defense contracting, aerospace, automotive, computing, network storage, consumer products and telecommunications firms.
Jabil engineers worked with Epilog, a company that combines AI and breakthrough video imaging technology to help autonomous cars see and understand the world. Jabil engineers designed the electronics, the mechanicals and the optics. In the end, they were able to deliver a physical product at a price point that was in the hundreds of dollars range — far below the competition.
Jabil is a unique opportunity. As companies restructure operations to take advantage of AI and data strategies, its services are in high demand. The firm also is also overflowing engineering talent in a marketplace where scarcity has become the norm.
For the fiscal year ended Aug. 31, sales surged to $25.3 billion, a 14% increase over 2018. Since then, revenues have ripped higher at an 11% compound average growth rate (CAGR). Net operating income also grew 14% during 2019, reaching a record $877 million.
Although Jabil shares have risen 61% in 2019, the stock trades at 11.5x forward earnings and only 0.3x sales. The market capitalization is a modest $6.1 billion.
The company is set to announce fiscal first quarter financial results Tuesday. Longer-term investors should consider buying on any significant weakness.
Best wishes,
Jon D. Markman