Autonomous Vehicles
GM in Danger of Passing the Speed Limit
In 2016, General Motors (GM) bought Cruise Automation for $1 billion.

It was totally out of character. GM, known for being careful, was jumping into self-driving cars headfirst. One year later, the Detroit icon is promising fully autonomous vehicles — in 2019.

It seems too good to be true. And it probably is. Investors should beware.

In Silicon Valley, there is an appropriate adage: "Move fast and break things." It's common for young, aggressive companies to believe they can change the world. Except for the venture capital of their early investors, they have nothing to lose. When older companies like GM proceed with the same reckless abandon, they tend to fall, and they don't get up.

Cruise Automation had a storied past. As a two-year-old company, it made quite a splash when it fitted one of its kits on a late model Audi, and engineers began tooling around San Francisco, hands-free. The fanfare allowed the startup to raise $18 million, at a $90 million valuation. By all accounts, GM had every intention of becoming one of those early investors when it approached the company last year.

Something changed when GM executives arrived in San Francisco. A strategic investment became a billion-dollar buyout. Six weeks later, the deal was struck.

It wasn't the first big move by Mary Barra, GM's new CEO. Although she took the helm at GM in January 2015, the Michigander and Stanford graduate wasted no time moving the company toward a self-driving future. One year into the job, she engineered a $500 million investment in the ride-hailing startup, Lyft.

The Cruise buyout months later was another piece of the puzzle. Like most automakers, GM is looking into the future, where owning a car makes less sense. Cruise, and the investment in Lyft, gives GM a way to get by selling car fleets, while its old business model deteriorates.

To be fair, the robot revolution has been underway for a while. It started with advanced driver-assistance systems, like backup cameras, emergency braking systems, adaptive cruise control and self-parking systems. They were nice, non-threatening tricks that car companies could upsell as value added features.

But they were just the opening foray. Ultimately, the industry is moving toward full autonomy. It's the reason companies like Uber and Lyft command such lofty valuations despite not coming close to profitability.

Ride-hailing is a way to forever change the value proposition. You don't need to own a car … or pay for fuel, maintenance and insurance … if you can summon one with your smartphone, hop in and go wherever you need to go.

Many studies find the typical car is used only 4% of the time. Cars are mostly parked at your home or workplace. Ride hailing, even with human drivers, increases usage several-fold. If companies can remove the driver, and that expense, then fares decline, usage increases further and the business model blossoms. This is the appeal of ride-hailing startups.

It's good for consumers because it removes the cost of ownership. It's good for ride-hailing companies. It's not so good for carmakers. As usage escalates, fewer cars will be required. For the industry, it's all quite daunting. Except, according to McKinsey & Co., a global consultancy, it could be a decade away.

And that brings me full circle to GM …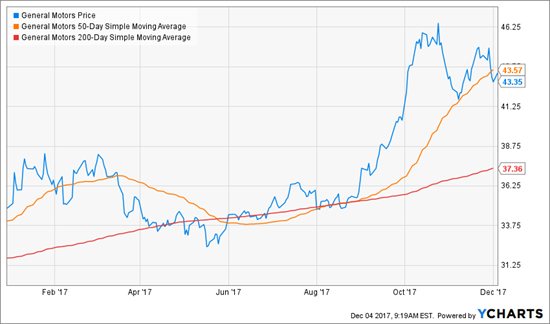 Don't get fooled by GM's 25% year-to-date gain. Sales growth has
slowed in Europe and America this year.

I get that Barra wants to prove she's running a new GM. It's forward thinking, fresh and ready to embrace the future. Got it. But the company is pushing into the future too fast. There is no reason to be first to a mass autonomous car market that does not yet exist.

One of the services I provide to members of my newsletter, The Power Elite, is helping them avoid the pitfalls of getting stuck in stocks that suck. Don't fool yourself that you can avoid them altogether, because there are plenty of these clunkers hiding in plain sight.

These stocks suck because the companies just don't play to their strengths. They are often too busy chasing trends to focus on what they do well.

Initially, the market for those autonomous vehicles is going to be tiny. If it follows tradition, the feature will come first to the high end. Self-driving taxis will need regulatory approval and years to make inroads with consumers.

It's a good time to take profits in GM if you've got them.

Best wishes,

Jon Markman