Cloud Computing
Google can't steer clear of China's cloud
Politicians may have left the table, but U.S. corporations are racing to get a bigger share of the Chinese economy.
Bloomberg reported on Friday that Alphabet (GOOGL) was in talks with Tencent Holdings, the parent company of WeChat, to bring the Google Cloud to the mainland.
Wake up. China is a vital piece of the new tech economy.
It is a big slice of humble pie for Alphabet. In 2010, it left the world's second largest economy following four years of tumult. The original censored version of its popular search engine was repeatedly targeted by the state for being too similar to the western Google.
The conflict came to a head when the search giant asserted that state-sponsored hackers were infiltrating Google servers, searching the Gmail accounts of human rights activists.
Eight years later, the Chinese approach to human rights may be even worse.
In February, The Atlantic noted that the state is in the process of blanketing the entire country with facial recognition software. It will use big data, deep learning and the monitoring of social media profiles to compile citizen scores, a single metric to keep tabs on every man, woman and child. The government says the system will be able to predict crime.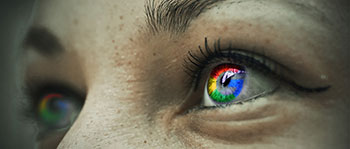 Baidu, China's biggest search engine, appears to be winning the search battle. Google is teaming up with Tencent, the second-largest Chinese search provider, to give it a shot at competing in the search wars there.
Alphabet is heading back to China because it must. It is racing with rivals Amazon.com (AMZN) and Microsoft (MSFT) to migrate the corporate world to the public cloud. Not having a presence in the world's largest internet market is a definite drawback. In January, China had 772 million internet users.
Partnering with Tencent Holdings, the second largest Chinese internet services company, would give Alphabet a way back into the marketplace.
It would also provide a seat nearer to the thriving tech scene in China.
The country has become an incubator of forward-thinking technologies, guided by an ambitious plan to retool the economy with state-of-the-art modernity. According to New York Times reporting, Made in China 2025, will see the state and local businesses work together to establish leadership in automation, microchip design and self-driving cars.
It is the kind of coordination that put a man on the moon decades ago. It is also a glaring competitive advantage that U.S. tech giants cannot ignore.
And then there is the data. Given China's single party rule and ubiquitous tracking, citizens have become immune to privacy concerns. Volunteering facial or fingerprint scans is common. In some places, you can't buy a bucket of fried chicken without staring into a camera.
All of that valuable data is sloshing around in the celestial empire.
Alphabet first reached out to Tencent in January 2018. The companies signed a patent licensing deal that gave the U.S. tech giant access to Tencent innovations.
Mini-apps, for example, require no download and no configuration. They are merely a set of code fixed to a distinct physical point in space. They are being used right now inside WeChat, the Chinese version of Facebook, to index, and digitize, the physical world. Walking near a storefront might elicit useful augmented reality, or ecommerce information.
In 2016, China logged $9 trillion in online sales. By comparison, $112 billion in ecommerce sales were transacted in the U.S.
Alphabet is not the only leading tech company itching to penetrate the Chinese tech scene. In July, Facebook (FB) announced its intention to open an innovation hub in China. Microsoft expanded its Azure Cloud platform. Satya Nadella, the chief executive officer, even announced plans to work more closely with the state government. And Apple (AAPL), while deriving 20% of its sales from China, has been a fervent investor in local tech companies.
The bottom line is U.S. companies cannot afford to ignore China. The market is too important to their global aspirations. It is also a hotbed of the new technologies that will define the future.
It is difficult to say where politicians will take the current trade dispute. Investors need to understand what is at stake. The Chinese have leverage.
Best wishes,
Jon D. Markman