AI
Google searches for a home in live gaming
Imagine the possibilities when computing might is no longer tied to the device on your desktop or in your pocket.
That's the promise when the data center is the platform.
Google became the second tech company in as many weeks to make this declaration. Yesterday, executives launched Stadia — a game-changing, cloud-based video gaming platform.
Some call Stadia the Netflix for on-demand gaming. The fact that Stadia is starting to develop exclusive content to stream on its platform isn't the only parallel. Nor is the hardware, or lack thereof on the consumer side.
Rather, investors should focus on the software, which is built on top of the Chrome web browser.
The Stadia reveal was the best of Google.
It was nerdy, awe-inspiring and almost too good to be true …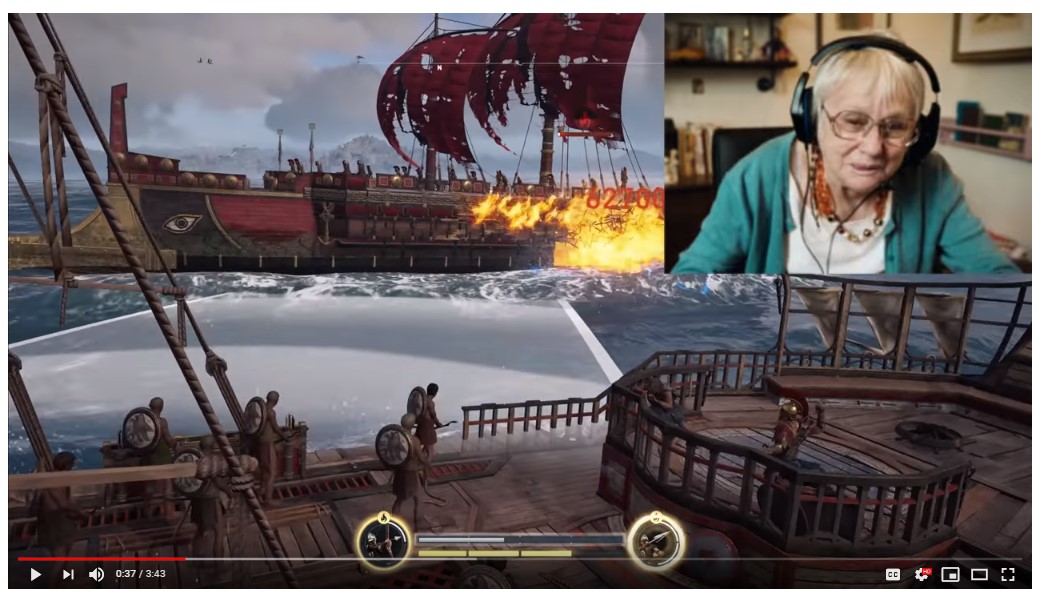 The Stadia platform aims to connect game developers, players and YouTube creators in a real-time gaming community. Click on the image above to watch the official four-minute announcement video.
At one point, Phil Harrison, an ex-Sony and Microsoft executive, asked developers to imagine watching the latest "Assassin's Creed" trailer on YouTube, clicking a link to the game and then playing the Ubisoft title 5 seconds later.
No annoying downloads, no drivers to update, nothing. Almost-instantaneous game play at 4K resolution with full HDR color, at 60 frames per second.
Better still, players could hop between devices. They could start playing at lunch via the browser on their work desktop … switch to their iPhone for the train ride home … and then finish up on their flat-screen TV at home.
It all seemed too good to be true. Then Harrison demoed Stadia.
Everything he asked developers to imagine was happening in real time, without hiccups.
Harrison claims this is all possible because Google's software engineers reimagined gameplay.
They moved all the heavy lifting — the rendering and game physics — to Google servers, in data centers scattered all over the world.
The result is gameplay that's not limited by the computing might of local hardware.
This means players can enjoy even the most demanding titles inside a web browser.
Trials of the service began last October. According to Polygon, an online popular culture magazine, gameplay was already excellent.
Unlike other streaming services, Stadia houses everything on Google servers. There are no third parties between the player and the game.
This means better security, enormous scale and unparalleled synchronization. Battle royale games that are now limited to hundreds of players will be unbound from network limitations.
Google is using machine-learning magic and its vast global data center infrastructure to reduce latency. The company claims Stadia will support 4K at 60 fps, a massive amount of data, on an internet connection of only 25Mbps.
Jenson Huang told the same story last week. The Nvidia (NVDA) chief executive said the $6.9 billion acquisition of Mellanox, a maker of high-power computer processors and interconnects, coupled with graphics processors from his company, would transform data centers into low latency supercomputers.
This new platform would change computing, according to Huang. It would allow enterprises to perform advanced data analytics, deep learning and artificial intelligence on the fly. It would create new business models.
This enterprise focus is an evolution of Nvidia. The company began as a maker of high-end graphics processing units, or GPUs, for video gamers. It is also ironic, or prescient, given Stadia.
The biggest winner of the Stadia announcement Tuesday was Advanced Micro Devices (AMD). The longtime Nvidia rival is working with Google on GPUs to power the streaming platform. Shares surged 12%, to $26.
There is reason to favor AMD …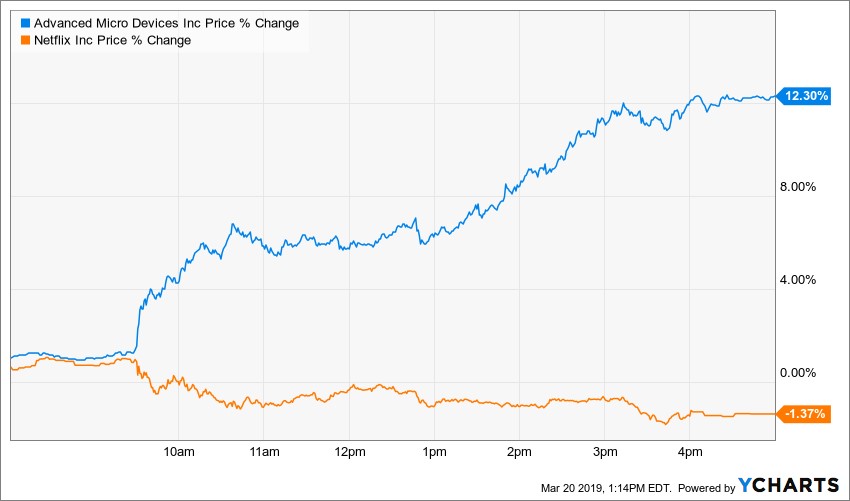 Google partner AMD surged 12% Tuesday while Nvidia fell 1.4% on the Stadia reveal.
For a company that has traditionally played second fiddle to Nvidia and third fiddle to Intel, the Stadia news changes the narrative. Shares could easily levitate to new highs.
Again, though, focusing on hardware misses the bigger picture …
When the data center becomes the platform, software shines. It stretches the limits of what is possible.
Stadia is an entirely new platform for Google. Its innovative software and tight YouTube integration should attract developers in droves.
Plus, the company plans to create its own games. Its Stadia Games and Entertainment studio is already working on exclusive content. Harrison claimed 100 studios have committed to the platform, ahead of its launch sometime during 2019.
The new service could be a major player in gaming.
Newzoo, a global game analytics firm, estimated this market to be a $135 billion business during 2018, growing to $170 billion by 2021.
Alphabet (GOOGL), the parent company of Google, gets a lot of bad press. Most of this is being ginned up by Apple (AAPL) executives, as Alphabet provides plenty of good reasons for the iPhone maker to fret.
One big reason is that Alphabet companies are born in software. Their not-so-subtle agenda is to make hardware largely irrelevant.
Stadia exemplifies this mandate.
Alphabet shares trade at 22x forward earnings. While that is not cheap, the valuation reflects its potential to disrupt both gaming and new markets with software.
As machines are increasingly replaced with code, the company should collect more than its fair share of spoils.
Sales grew to $134 billion in 2018, up 23.3% year-over-year. Almost all of that growth was organic.
My Tech Trend Traders are sitting on a 71.7% open gain in GOOGL. Long-term investors should buy any weakness encountered over the rest of this year. For my freshest trading signals on this and other tech, biotech, fintech and related stocks — all of which are riding massive mega-trends with double- and triple-digit profit potential — click here.
Best wishes,
Jon D. Markman