ALB
Lithium Miner Powers the EV Revolution
Managers at Rivian, an electric truck company that has not built a single vehicle, are out scouting for a second factory location.
It helps to have investors with deep pockets and a hot sector.
Rivian is not your average electric vehicle (EV) startup. Managers disclosed Friday that the firm raised an additional $2.5 billion from the likes of Amazon.com, Inc. (Nasdaq: AMZN), Ford Motor Company (NYSE: F) and T. Rowe Price Group, Inc. (Nasdaq: TROW), the financial services firm.
And those big names are investing with good reason. It's not hyperbole to argue that there's a goldrush in EV expectations.
According to research from Edison Electric Institute, a trade association for U.S. electric companies, there will be some 18.7 million EVs on the road by 2030.
Related Post: Legacy Carmaker's Only Hope to Compete With Tesla
That would be a monumental leap from the current number of only 1.7 million.
General Motors Co. (NYSE: GM), Ford, Volkswagen AG (OTCPK: VWAGY) and every other major automotive company are racing to build EVs. Volvo has committed to electrifying its entire lineup of cars and SUVs by 2030.
All these new vehicles will require batteries. And most will use lithium.
Which is why savvy investors should look to Albemarle Corp. (NYSE: ALB), one of the world's largest producers of lithium, as their next opportunity.
It's hard to remember what life was like before lithium-ion batteries. Our smartphones, watches and laptop computers all depend on these batteries. Without them, we would lose these vital links to the connected world.
Yet all of this began in 1991 with a different interrelation.
Managers at Sony Group Corp. (NYSE: SONY) thought they could build a business around collecting video memories with lightweight, portable video recorders. They used lithium-ion batteries to power the new lineup of camcorders, jumpstarting the lithium-ion battery explosion. Production since 1991 has increased sixfold.
Lithium is the lightest metal on Earth. It is also highly reactive, giving up its electrons easily. Since 1991, researchers have rushed to improve lithium-ion batteries with great success; today's power packs are far more energy-dense with better longevity.
The problem is mining lithium is messy and requires expertise. Getting enough high-grade lithium to power most of the world's future vehicles will not be easy.
Managers at Rivian understand the supply constraints. Battery production is one of the reasons the company is looking for a second manufacturing facility, according to a report at Reuters. It is also why executives plan to scale vehicle production slowly.
Although orders for its R1T truck and R1s SUV have been brisk, Rivian production managers plan to build only 20,000 vehicles in 2021 and 40,000 next year.
Related Post: Automakers Set to Monetize EV Screens
Albemarle Corp. is a specialty chemical manufacturing company headquartered in Charlotte, North Carolina. The company has lithium mines in U.S., Chile and Australia. It's ideally positioned to take advantage of the heady expected growth in lithium demand.
Albemarle also has the scale, experience and infrastructure to service big customers.
Currently, 60% of the demand for lithium comes from EV companies, phone and wearable manufacturers. Glass, grease and aerospace companies consume 20% of supplies. And the remaining 20% is used in specialty applications like synthetic rubber, pharmaceuticals and agricultural products.
A May filing with the Securities and Exchange Commission (SEC) revealed sales increased to $829.3 million during the first quarter, up 10% year over year. Profitability in the quarter rose 10% to $95.7 million.
An investor presentation, also released in May, showed that managers expect battery-grade lithium demand will increase at a 47% compound annual growth rate (CAGR) from 2020 to 2025.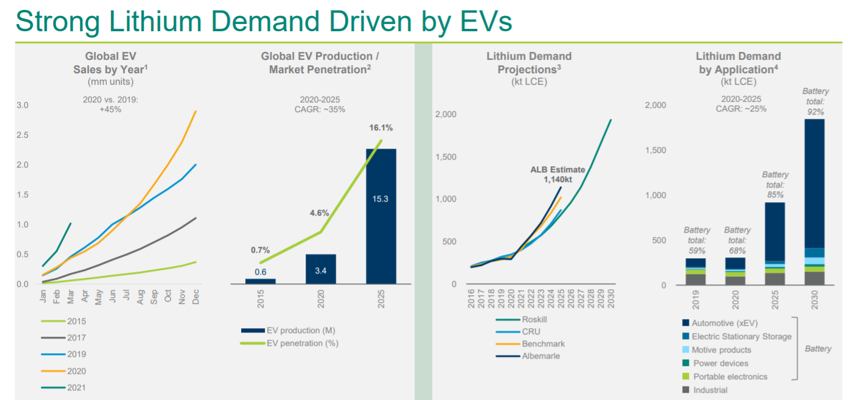 Source: Albemarle Corp.
Lithium is becoming the connective tissue to the global economy. From camcorders to smartphones and now EVs, the lightweight metal is crucial in how we're building and connecting to our world. Albemarle managers are racing to serve global markets with potential megaprojects in China, Silver Peak, Nevada and Kemerton, Australia.
EVs are the future of automobiles. This is the reason big companies are so invested in the prospects of Rivian. It's why Amazon.com chose the company to electrify its delivery van fleet.
But getting there is not going to be easy.
Companies like Albemarle that extract minerals out of the ground will play a key role. Investors should consider accumulating shares before the real gold rush to EVs begins.
Best wishes,
Jon D. Markman