Robotics
Real 'Bionic' Man is a Testament to Medical Robotics Advances
Remember the "Six Million Dollar Man" show on TV? Johns Hopkins and the Department of Defense have finally brought that idea to life.

It is not a complete reboot of the 1970s fantasy. Johnny Matheny, the recipient, is not an astronaut. He will not be able to run 60 mph.

But he is getting a prototype $120 million bionic arm. It will change his life, and put a smile on your face.

It is also a wakeup call for investors. Robotics technology is real. It is here.

Johnny is not what you might expect. He doesn't have Hollywood good looks, nor does he cut an especially impressive figure. Goateed and balding, his midsection has been transformed by too much French toast and bacon.

He is an ordinary West Virginia guy, and a self-labeled back-country hillbilly. But he is good-natured, and claims to live his life by two enduring rules: "There is a reason for this season," and "always have positive mental attitude."

It would have been easy to give up. In 2005, doctors discovered a very aggressive cancer in his left forearm. "Six surgeries trying to cut it out," he quips, "and 39 radiation treatments trying to burn it out."

None of that worked. By 2008, his doctors had exhausted every treatment. Amputation was the only way to ensure the mutation did not spread.

Through all of it, Johnny forged onward.

While browsing on the internet, he found a link to Modular Prosthetic Limb. That's a new artificial arm being jointly developed by Johns Hopkins Applied Physics, in Maryland. He also landed at DARPA's site. That's the advanced research arm of the U.S. Department of Defense.

The MPL has 26 joints. Seventeen of them can be moved independently. But the big innovation is mind control. Using a Bluetooth armband and a special implant fused directly to the bone, wearers can control the arm by simply thinking.

Johnny was one of a handful of people selected to begin testing the device. Albert Chi, a trauma surgeon at Johns Hopkins, located the nerves in Johnny's arm that used to control his hand. Chi surgically moved the nerves to healthy tissue, and fitted the osteo-integrated implant.

For the past four years, Johnny has been learning how to control the arm through a process called targeted muscle reinnervation. His progress is amazing.

All of this has been accomplished on a part-time basis. The MPL is a $120 million device. Johnny travels to Baltimore every three months to work with Chi and researchers in a controlled environment. They slide the device onto the implant, and Johnny's quadrupedal journey resumes.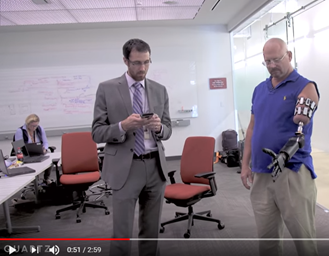 See Johnny's journey with the $120 million robotic arm on YouTube. Click here to watch.
That is about to change. He is going to live with the device full-time, in his own home, for the next year. He will be completely on his own, free to experiment and push the MPL to its natural limits. Researchers have asked that he not wear it while driving, and that he should keep it dry. But beyond that, he is free to do as he pleases.

The robotics industry could use some good news. Even back-flipping robots have been commandeered by proponents warning about the apocalypse.

Investors need to put aside their fears. This is a real investment story with plenty of upside.

McKinsey & Co., a global research and consulting firm, points to a new era of manufacturing on the horizon. By 2025, developing markets will become the leading consumers of goods. Analysts believe advanced robotics will play an outsized role as manufacturers push the limits of productivity. This revolution is already underway in China.

I have been pointing my members toward a large Japanese robotics firm. The company makes an impressive range of best-in-class robotic arms for welding, painting, packaging and light manufacturing. The common is now in the process of correcting a spectacular gain for the 2016 lows.

Opportunity awaits. This pullback will not last long.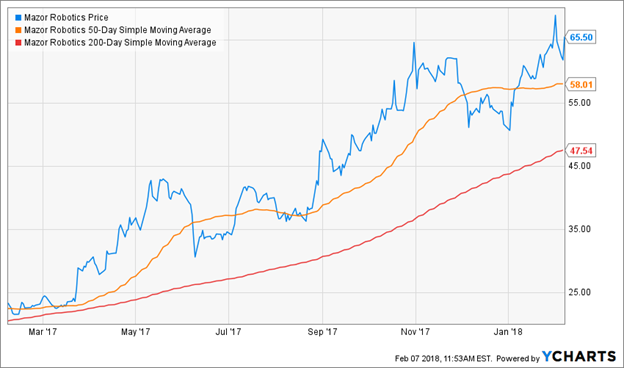 Another medical device company we like is Mazor Robotics (MZOR), an Israel-based company that makes equipment used in orthopedic surgery and neurosurgery.

Forty years ago, episodic television asked us to suspend disbelief and imagine a world were robotics bested human limbs in every way. That time is near. And it is going to be a big money-maker for investors.

Best wishes,
Jon D. Markman