AI
See Robo-Spot Run
Spot is getting ready to run with the big dogs.
Spot is Boston Dynamics' first major robot to be released into the wild, according to a Tuesday report by the Verge. Engineers at the robotics research company see this as a new platform for developers.
Spot has four articulated legs, an injection-molded hard plastic shell and just enough functionality to finally be useful. And now, the company will be able to see it navigate in unknown environments and extreme circumstances.
This has been a long time coming.
For much of its life, Boston Dynamics has designed and engineered robots that would be the next big thing, but never really delivered.
Related post: You're gonna flip over this robot
Born at MIT in 1992, the company has been a hotbed for innovation. Development of its BigDog robot spawned awe and fear, all at the same time.
Funded by the Defense Advanced Research Projects Agency, the 240-pound colossus was supposed to be more mechanical mule than dog. Its sturdy four legs could comfortably negotiate all types of terrain while carrying 350 pounds. A brisk 4-miles-per-hour pace made it the ideal accessory for a soldier.
When the company posted a new video of the machine in action in 2008, jaws dropped in the small fraternity of robotics engineers.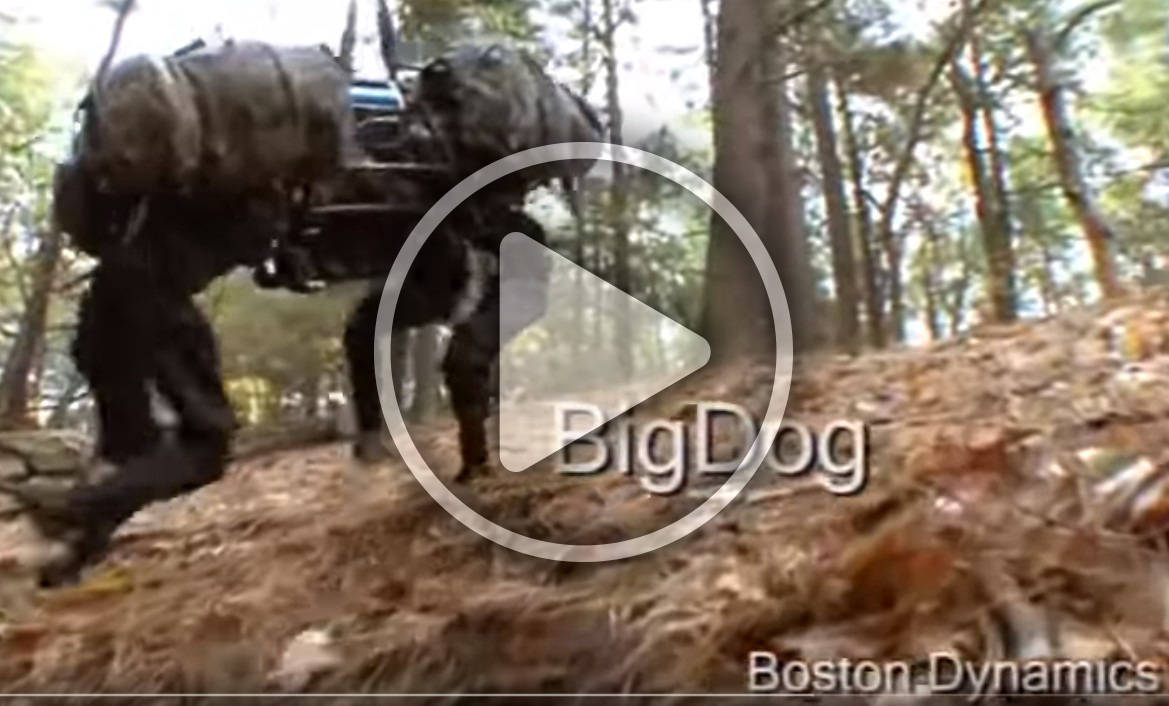 Boston Dynamics' BigDog, circa 2008 (watch on YouTube
here
), preceded a robotic cheetah and, now, Spot.
Despite this, BigDog never made it to the battlefield. Although its utility was unmatched, the contraption simply made too much noise.
Through the years, Boston Dynamics developed a series of mechanical canines. Some replaced the rear lags with wheels. Others substituted an arm where the head should have been. There was a steady stream of Frankenstein machines, each crazier than the last.
The Waltham, Mass., company even designed a robotic cheetah capable of running 28 miles per hour, making it capable of outrunning the fastest man on Earth, Usain Bolt.
Judging by the deluge of internet memes, the possibility these machines might soon be able to think, with the help of sophisticated machine learning and other artificial intelligence, was unnerving to the general public.
The stigma of scary robots, even really smart ones, was part of the reason Alphabet (GOOGL) parted ways with Boston Dynamics in 2017, only four years after the company was acquired by Google X.
Spot is definitely less menacing than previous incarnations. It's also a long way from full autonomy.
The robot can go only where it's told to go. It can avoid obstacles and maintain balance, especially on uneven surfaces.
This is a very useful skill for exploring. And Spot is currently being fitted with Lidar sensors to make detailed 3D maps of interior spaces.
Other sensors and more use cases will follow.
Unlike its predecessor, Spot is whisper-quiet and sublimely efficient. Softbank, its new owner, is also steering development well clear of any military applications.
By pushing Spot as a platform for developers, Boston Dynamics managers hope to finally move automation and robotics beyond the digital world.
And this leads us to the bigger play for investors:
Tech gear for exploration.
Here are three publicly traded possibilities for you to consider to help you ride the mobile robotics trend …
Flir Systems (FLIR) makes thermal imaging gear and locator systems, along with security cameras, navigational instruments, radars and sonar systems.
Most laypeople would be hard-pressed to point to a single Flir product. However, sensors and equipment from the Wilsonville, Ore., company are well-regarded by first responders and border security agents.
Related post: 5G will change your life … and maybe even save it
Now imagine those sensors attached to a robot immune to thick smoke and desolate harsh terrain.
Monolithic Power Systems (MPWR) designs the integrated circuits that make power systems more efficient. While this seems like a small thing every small efficiency is magnified with standalone robotics.
Related post: Hybrid truck-robot-ambulance-tank epitomizes carmakers' quest to stay relevant
Its eMotion is a gearless IC that is 30% more efficient than traditional electric motor setups. It creates less heat while offering more torque. It is more power-efficient, and less expensive.
Analog Devices (ADI) designs integrated circuits for everything from process automation and control systems, to high-performance signal processing. Its Lidar business offers the lowest overall power consumption and highest bandwidth.
All these companies benefit from mobile robotics.
Some of these robots will be unmanned ground vehicles, like Spot. They will carry out rescue operations during natural disasters, or they will detect and diffuse explosives. Others will be aerial drones or stationary surveillance installations.
It's a market IDC predicts will grow at a rate of 20.3% over the next five years and reach a total addressable market of $53.8 billion by 2022.
This is a big investment trend that stretches far beyond YouTube videos of robotic dogs. It's about the future of electric machines interacting with the physical world.
And it is coming sooner than most investors want to believe. Smart investors know to get in on the ground floor. And the best way to do that is to start here.
Best wishes,
Jon D. Markman