Alphabet
Sorry, Roku — The Future of Television Is (Google's) FAST
The future of television is Free, Ad-supported Streaming TV.
Not only is it FAST, but it's also completely digital. Yet, it looks and feels exactly like traditional linear TV, complete with commercial breaks.
And it sure looks like this future is fast approaching for Alphabet (Nasdaq: GOOGL).
Google's parent company is reportedly in talks to launch FAST channels inside its Android-based Google TV streaming platform as early as this fall.
FAST plays to Google's core strengths. It also aims to deliver a big blow to Roku (Nasdaq: ROKU). Investors need to understand what this means for the streaming platform before they're hit with a rude awakening.
It's been a wild past several months for connected TV, the digital version of traditional TV. Several large players like Netflix (Nasdaq: NFLX), Amazon.com (Nasdaq: AMZN) and Disney (NYSE: DIS) continue to report subscriber growth even as they raise prices.
Consumers are choosing subscription video on demand (SVOD) services based on content libraries and convenience, and the SVOD winners are now clear.
Related Post: Streaming Wars Are Heating Up
At the other end of the spectrum, SVOD players are proactively building out the infrastructure for ad supported video on demand (AVOD) services.
For example, Fox (Nasdaq: FOXA) acquired Tubi in 2020, the world's largest AVOD. Tubi is an app that runs as a channel on smartphones and connected TVs. It's free to use, assuming viewers don't mind watching commercials.
It's a lot like traditional TV, except with better ad targeting.
Pluto TV was acquired in 2019 by ViacomCBS (Nasdaq: VIAC). And Comcast (Nasdaq: CMCSA) bought Xumo TV in 2020. These AVODs are the blueprint to take Paramount+ and Peacock toward solely ad-based models.
The transition is obvious … these media companies have deep roots in ad-supported business models. Going digital means better targeting and presumably higher ad rates.
The play by Alphabet executives is also about familiarity.
The Mountain View, Calif.-based company is following the game plan that made Android the dominant operating system on smartphones. Alphabet executives are also positioning Google TV as the preferred search engine for connected TV, while setting up a potential windfall in digital advertising across more than YouTube.
Investors should not ignore what's happening in plain sight. It's a game-changer.
Although Roku emerged as an early digital streaming titan, its inability to compete with other tech giants' innovation could lead to big trouble.
Roku built a sprawling digital TV empire on the back of people looking to cut the cord with their pay TV providers, and hardware partners trying to get Netflix, Amazon Prime and YouTube onto their TV sets. Roku offered inexpensive hardware to cord cutters, and a lightweight, easy-to-use operating system for smart TV makers.
However, the Verge reported in August that TCL — an important and long-time Roku hardware partner — would begin building smart TVs with Google TV software.
And in a letter to shareholders around the same time, Roku executives said the company chose to eat the increased cost of processors for its consumer dongles and connected TV boxes, resulting in 5.9% negative margins.
Related Post: YouTube Has Won the Streaming Media Battle
To make matters worse, executives revealed Roku members watched 1 billion fewer hours of digital content on its platform during the second quarter.
Pile this on top of the Alphabet FAST news … and it could not come at a worse time for Roku.
The search giant is going after Roku's hardware partners with a slick digital TV platform that incorporates personalized content recommendations, access to all the leading SVOD and AVOD providers and best-in-class search.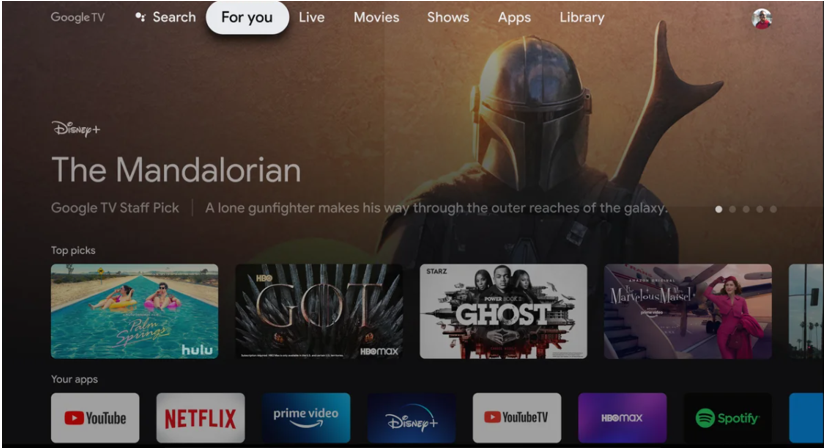 Google's TV service that launched in 2020. Source: Protocol
FAST channels on Google TV will get their own home in a live TV menu, according to a report from Protocol. Currently, that spot is the sole domain of YouTube TV, Alphabet's cable TV competitor. Adding FAST channels would make them searchable, playing to Google's core competency.
Bringing search across SVOD, AVOD and FAST is a killer application, and completely on brand for Alphabet. The company mission statement is "to organize the world's information and make it universally accessible and useful."
Well, that accessibility and usefulness might be fatal for growth at Roku, which stands no chance to compete in this regard.
Savvy investors should liquidate their Roku positions into substantial strength.
Best wishes,
Jon D. Markman