Data
Unique capacity to hail down data drives Lyft toward IPO
The physical world is being transformed into bits of data. This information is being collected, analyzed and made actionable.
Lyft, the smaller competitor to Uber, is a perfect example. Investment bankers are readying a $23 billion IPO. The ride-hailing company, which is set to debut on the Nasdaq any day now, is only seven years old.
Lyft is one of several digital businesses changing commerce with data.
Skeptics say it's just the latest technology bubble babble. Lyft, they point out, has never even sniffed profitability. And using a smartphone app to match drivers and customers looking for rides is not a big leap from taxicabs. That is, unless the new paradigm is about losing money.
Lyft lost $911 million on $2.2 billion in sales during 2018, according to the IPO prospectus, which was filed and updated in the past two weeks.
Worse, those losses are accelerating. The San Francisco company "only" lost $688 million in 2017.
This should be a red flag, but Lyft has never had any trouble raising capital at seemingly wild valuations. The company secured $600 million in funding in June last year, according to a report from TechCrunch. The cash injection pushed its private valuation to $15.1 billion.
That's a fraction of the riches afforded to Uber, its cross-town rival. In 22 investor rounds, this ride-hailing pioneer raised $24.2 billion. Google Ventures invested $258 million in 2013, but only after Uber managers met personally with Larry Page, Google's cofounder. The colossal outlay represented 86% of GV's annual budget.
Four years later, the search giant led a $1 billion investment round for Lyft.
The attraction of digital companies like Lyft, Uber and lodging marketplace Airbnb is data. These new businesses are oozing it and using it.
A simple trip home might feel like a cab ride, but Lyft knows everywhere its drivers go. It knows the customer's location, what places they frequent, and how they pay. It's using the sophisticated sensors inside modern smartphones to harvest live data, then send it back to company servers for analytics.
Uber executives got into trouble in 2014, according to a story from Forbes, for treating private-party attendees to software it called God View. The code tracked 30 notable customers in real time through the streets of New York City, even when they were not using the service.
To be clear, public trust is a big deal. Squandering it for the sake of party tricks is foolish. It hurts stakeholders. But the value play is the information these companies are gathering.
Data is the fuel smart algorithms need to glean all sorts of actionable insights.
Ride-hailing companies currently use data visualization for fare pricing. Algorithms ingest millions of data points every second to determine fares based on supply and demand.
I'm not going to guess how well the Lyft IPO will perform. Value depends on perception. I suspect it will do great out of the gate due to scarcity and expectations for profitability once autonomous control of vehicles allows the company to fire all of its expensive contract drivers.
Most investors however are probably better-served buying the companies that build the fast engines.
Alteryx Inc. (AYX) makes a software platform for data scientists. This allows them to plug in data — often without coding — build models and get actionable insights fast. The process is explained well in this corporate video.
In the beginning, the Irvine, Calif., company made a name for itself helping large companies like Amazon.com (AMZN), Ford (F) and Coca-Cola (KO) find market inefficiencies.
Then in March 2017, Alteryx enjoyed a successful IPO, offering 9 million shares at $14 on the New York Stock Exchange.
At the time, Dean Stoecker, co-founder, told CNBC that legacy data analytics was completely broken and Alteryx was ready to fix that.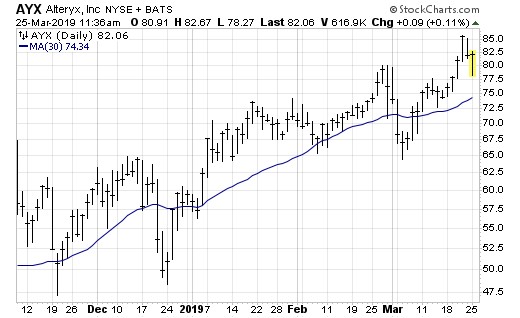 Alteryx has caught a bid since its 2017 IPO as investors come to understand its importance to the data software value chain.
Today, the company has technology partnerships with Amazon Web Services, Microsoft (MSFT), Salesforce (CRM), Oracle (ORCL) and Tableau (DATA), a Washington data visualization company.
Its customers span industries far beyond tech, including footwear (Adidas), fast food (Dairy Queen), consumer staples (Johnson & Johnson, Unilever) and home improvement (Home Depot).
Sales rumbled to $253 million in 2018, a gain of almost 93% year-over-year. And the company reported a profit of $28 million, its first in a long history of manic platform investment.
At $81.97, Alteryx shares are up 37.8% this year, and 132% during the past 12 months. They have raced 485% higher since the March 2017 IPO.
The stock is not cheap. It trades at 20.8x sales and 112.9x forward earnings. However, it's the right engine for the current gusher of new data. It helps companies understand existing businesses and build new models, with data.
Growth-oriented but patient investors should consider buying Alteryx into weakness in the weeks and months ahead. To be among the first to get my timely trading signals, with detailed buy and sell instructions, click here.
Best wishes,
Jon D. Markman