AI
AI race compels software-makers to design custom chips
It's hard to see all the pieces, but artificial intelligence is changing computing in profound new ways.
Axios reported Feb. 6 that Adobe (ADBE), a company best known for its software suite aimed at creative professionals, is considering building its own semiconductors.
If accurate, this report shines a bright light on the opportunity awaiting investors.
In the past, Intel (INTC) ruled the semiconductor world. Device-makers built applications around its plug-and-play chips. They were fitted into servers, desktop computers and other gadgets requiring a silicon brain.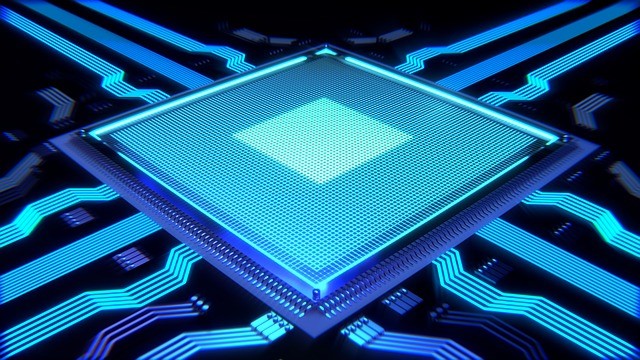 Adobe is known for its software for creative professionals. Now, it wants to design hardware that can power your next PC.
All computers had Intel inside. But then smartphones flipped the equation.
Low-powered chips designed by ARM Holdings quickly won mobile. The architectural versatility and licenses allowed companies to develop systems that lived on the chip.
For the first time, it became financially feasible to build chips around the application.
For many years, custom system-on-chip (SoC) microprocessors from Apple (AAPL) have been the envy of the mobile world. Its A series processors are perfectly optimized for the iOS operating system. In benchmarks, the combination runs circles around competing chips from Qualcomm.
Samsung, Huawei and more recently Google followed suit.
It's one part efficiency, three parts evolution.
The Intel era was about the rapid advance of raw computing power through density. Moore's Law saw processing capacity double every two years as more transistors were jammed into integrated circuits. The next great advance in computing will be the product of software optimization.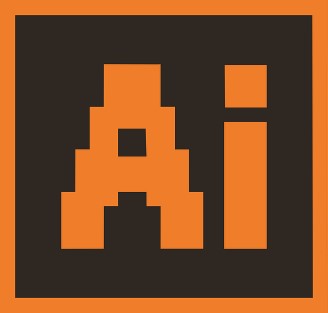 The "AI" in the Adobe Illustrator logo could soon just as easily stand for "Artificial Intelligence," as the company considers designing its own semiconductor chips to make its software more powerful.
Abhay Parasnis, chief technology officer at Adobe, told Axios his company is preparing for a world where chipsets tailored to machine learning and AI will bring dramatically more powerful computing.
It makes good sense for Adobe stay ahead of other disruptors. And it should be able to, because this San Jose company has a long history of innovation …
Managers completely remade the business ahead of the rise of cloud computing. The model changed from expensive shrink-wrapped software to monthly subscriptions delivered over the internet.
More recently, Adobe managers embraced AI. Sensei reimagines the Adobe software suite through the prism of an integrated AI and machine learning framework. The company claims it brings an element of magic to the creative process.
Parasnis believes thinking in these terms will allow Adobe to move beyond its current honey pot of visual tools. Immersive voice, and augmented and virtual reality environments, will demand new implements.
Cadence Design Systems (CDNS) makes electronic design automation software and hardware. It may seem a bit complicated. What you need to know is the company helps other businesses design integrated circuits, printed circuit boards and SoCs.
For the past five years, that has been a consistent 6% annual revenue growth business. Cadence logged $1.9 billion in sales during fiscal 2017, its last full reported year.
Last October, Lip-Bu Tan, chief executive officer at Cadence, guided analysts' sales estimates higher. He noted continued growth across all segments of the business. Data center and 5G reported solid gains. However, Tan was most enthusiastic about AI and machine learning.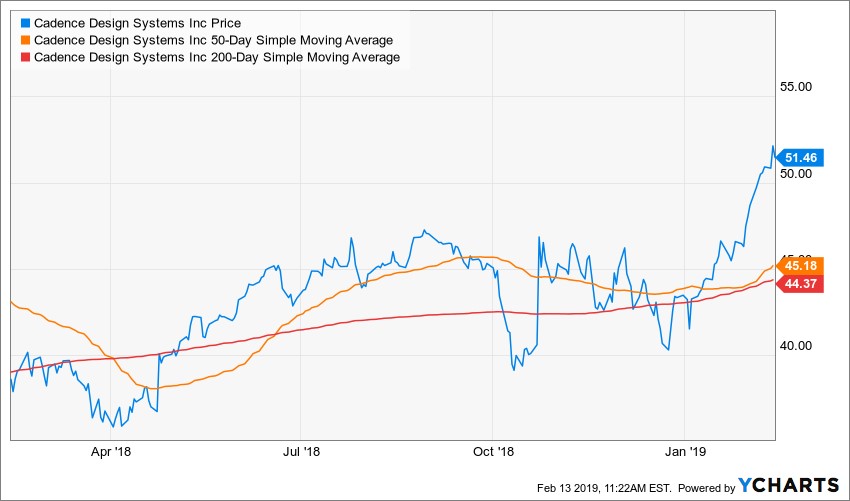 Cadence shares are up 18.3% so far in 2019.
Consider buying on pullbacks.
Big data and sophisticated algorithms are prompting demand from what he called new "domain-specific accelerators." Custom silicon is being designed for healthcare, transportation and manufacturing applications.
This development echoes what is happening at Adobe. The company makes no hardware. In a modular new world of public clouds and Software as a Service, Adobe works in a narrow niche. Still, managers are considering building custom SoCs.
In addition to the chip design business, Cadence has a vibrant specialty and printed circuits business.
The company announced In July 2018, it was awarded a contract by the Defense Advanced Research Projects Agency. Cadence will help the Pentagon research group automate the design of next generation of specialized processors and printed circuit boards.
At an August 2018 technology conference, managers revealed the company has contracts with all of the top semiconductor enterprises. It has 4,100 research and development engineers and 1,500 professionals in the field, including innovation centers scattered throughout Southeast Asia.
Cadence trades at 26.6x forward earnings. Its market capitalization is $14.6 billion. The stock can be bought into pullbacks.
Best wishes,
Jon D. Markman