Autonomous Vehicles
Autonomous Cars are Speeding Toward Their Destiny
Naysayers. It is the beginning of the year, so they are out in full force. They are the people telling you about all the great technology advances that didn't happen in 2017.

Last week Wired published a deep dive into self-driving cars. The title: "After Peak Hype, Self-Driving Cars Enter the Trough of Disillusionment." The author set up the straw man. Getting cars to drive autonomously with software and sensors is tremendously hard work.

Investors need to understand that is the opportunity.

Most companies are not interested in hard work. In 2005, a fledgling Seattle online bookseller began building cloud computing infrastructure so large it was capable of processing thousands of e-commerce transactions per second.

The very idea seemed implausible. It required massive data centers, and new software processes. But Amazon.com (AMZN) did build Amazon Web Services, and its online store flourished.

Five years later, that same cloud network infrastructure became the foundation for the transformation of Netflix (NFLX). It allowed programmers to build radical data-compression algorithms. They built new recommendation engines, too. In the process, a mail-order DVD rental company grew into a global streaming media juggernaut.

Amazon and Netflix managers were successful because they saw that information technology was progressing at an exponential rate. They saw an opportunity to re-imagine what was possible. They confounded the linear thinkers, and created staggering shareholder value.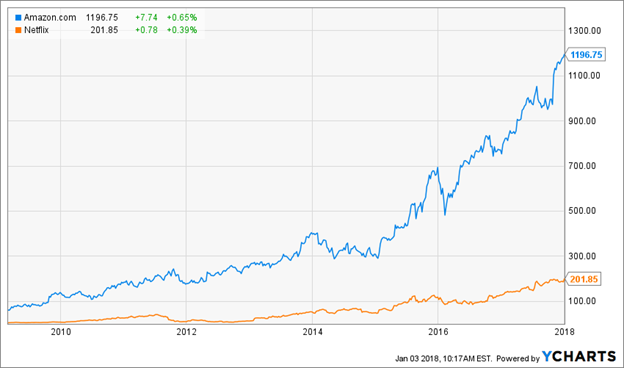 Since 2009, the start of the current bull market, Amazon shares are up 2,087%. Netflix shares are 4,620% higher. Those figures are not typos.

Self-driving car technology is being driven by the same exponential advances.

In 2010, Nvidia (NVDA), a small company best known for high-end video graphic cards, began investing in artificial intelligence. Managers quickly realized that the same algorithms that allowed graphics designers to build simulated worlds in computer games, could be used to solve more-complex problems.

Since then, the company invested $10 billion in research and development. Self-driving cars ate up a sizeable chunk. Today, its Drive PX2 platform is universally embraced by carmakers.

Tesla (TSLA), a valued Nvidia customer, already has vehicles on the road with an older solution. It is capable of level 3 autonomy. Nvidia executives claim level 5 (full autonomy solutions) will begin shipping later this year. And in Germany, Deutsche Post DHL Group is set to begin a pilot program with a fully autonomous delivery trucks.

Last year, in a note to clients, Morgan Stanley analysts predicted General Motors (GM) would slash the price of LiDAR, a light-based radar, to $300 per vehicle in 2018. Two years ago, the cost of this technology was $20,000.

Despite this, the idea that self-driving vehicles are a decade away is now a familiar talking point among naysayers. They will not be satisfied until robotic cars are everywhere.

This misses the point. Almost completely.

Jen-Hsun Huang, the Nvidia CEO, tells the story of betting the future of the graphics card company on AI because he could see the exponential growth ahead. Company engineers didn't accidentally build the best solutions for autonomous vehicles. It was foresight, and a lot of hard work.

Last year, Nvidia shares rose 81%. And that was after surging 225% in 2016. Since 2010, the stock is up tenfold. Ten thousand dollars invested then, is worth $100,627 today.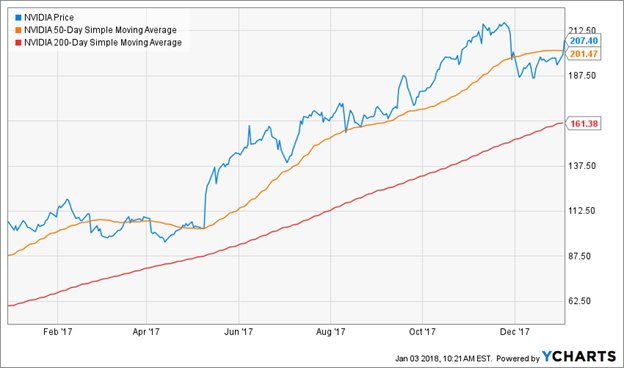 It's just the beginning. There are other Nvidia-like stories in the making.

Recently, I have been telling my Tech Trend Trader members about a smaller company that makes proprietary technology to power brushless electric motors.

Until recently, the market for this technology was limited. But a tidal wave of low-cost, low-power sensors is on the horizon. Last year, net income surged 49% and new customers began placing orders. (This is a relatively new recommendation, but I can tell you the stock surged 1.5% in early trade today. To be among the first to get my trading signals delivered right to your inbox, click here.)

Another company, Delphi (DLPH), recently reorganized. Managers wanted investors to draw distinctions between its legacy auto parts businesses, and the forward-thinking Auto 2.0 franchises.

So, they spun-off those assets into another stock with the old name.

The new stock, Aptiv (APTV), is a pure play on self-driving vehicles, ride-hailing and autonomous technologies.

This was a smart move on the company's part. That's because the technology is getting better at an exponential rate.

Even better, it is coming soon.

Investors should not worry about naysayers. They missed e-commerce, streaming media, and they will undoubtedly miss self-driving cars. That's an opportunity for the rest of us.

Best wishes,
Jon Markman