Investing
Despite the 'Powell Shuffle,' Optimism Returns
Stocks churned like butter at a county fair during the last several trading sessions. There's been enough kinetic energy to get the market to the top of its 18-month range, but not enough to send it over the top.
As investors continue to assess the Fed's latest outlook on future interest-rate cuts, mid-level trade talks between American and Chinese representatives are slated to start Thursday in Washington ahead of high-level discussions in October.
Overall, most investors are betting that the U.S. economy is in good shape despite some rough conditions overseas. This is because we still have low inflation, low unemployment and consumers ready to keep buying stuff they don't really need.
Decliners outpaced advancers by a small margin: Through Thursday's close, there were 246 new highs vs. 54 new lows. Topping the new high list were Microsoft (MSFT), Medtronic (MDT), Danaher (DHR), Dominion Energy (D), Southern Co. (SO), American International (AIG), Equinix (EQIX) and Sun Life Financial (SLF).
That's a hodgepodge of tech, healthcare, utilities and insurers.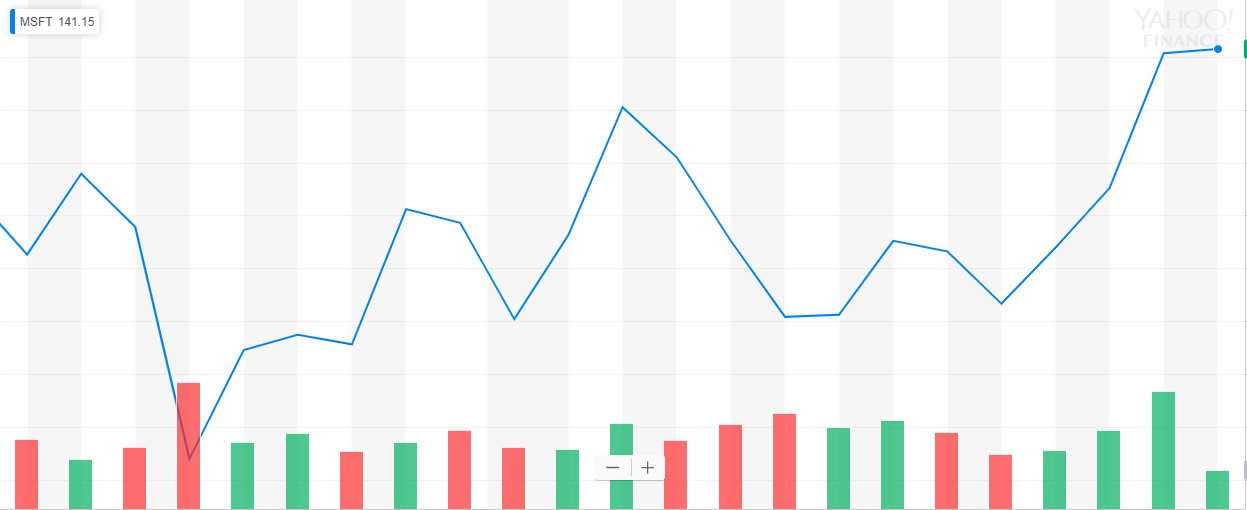 Microsoft (MSFT)
shares popped Thursday after a buyback announcement. Chart source: Yahoo! Finance
Shares of Microsoft climbed sharply Thursday after the software company said it plans to buy back as much as $40 billion in stock and raise its dividend 11%. Traders took some profits off the table Friday, sending Microsoft about a point lower. But shares still ended the week close to 2% higher.
Note to my Tech Trend Trader subscribers: I urge you to sit tight in your MSFT shares. With this week's action, our current open gain sits right around 108%. And there's a lot more where that came from.
For everyone else: You can go for gains like this regularly when you take my service for a test drive. Click here to do that starting today.
At the same time, shares of chipmakers, which have been caught in the crosshairs of the trade spat, hit the skids.
On the economic front, the news was much better …
A recent batch of housing data has pointed to a firming U.S. economy. Sales of previously owned U.S. homes in August grew at the fastest pace since March of last year, the National Association of Realtors said Thursday.
Homebuilders' shares rose on the news, with D.R. Horton (DHI) busting out to a new high and Hovnanian (HOV) rising another 3.6% out of its bombed-out crater.
Home sales should get a boost from lower interest rates. A divided Fed cut interest rates by a quarter percentage point for a second time this year on Wednesday to cushion a slowing U.S. economy from a global slowdown.
President Trump instantly tweeted his dismay.
Jay Powell and the Federal Reserve Fail Again. No "guts," no sense, no vision! A terrible communicator!

— Donald J. Trump (@realDonaldTrump) September 18, 2019
Two reserve bank presidents communicated their preference to hold rates steady, and one wanted a half-point cut.
Either way, the bias is toward cutting, which Mr. Market — and Mr. Trump — will appreciate.
***
Some Optimism Returns, and That's OK
Two weeks ago, bulls in the AAII survey of independent investors had dropped to one of the lowest average levels in 30 years. With the recovery in stocks since then, SentimenTrader analysts note that modest optimism has returned, and the Bull Ratio in the survey has rebounded to the second-highest level since May.
Analyst Jason Goepfert notes that's a fairly quick cycle from extreme pessimism to modest optimism. Anytime this particular survey shows even a little bit of optimism, he observes, it tends to bring out the contrarians who think every little wiggle is a reason to do the opposite.
But that's generally not a successful approach. Rising optimism tends to be a good sign until it reaches an extreme. Which it's not at, in this case.
Goepfert riffed his database to show every time the Bull Ratio fell below 33% in the past six weeks then rebounded at above 55% as it did this week. It did not provide a massive buy signal, but the S&P 500's returns going forward were better than random on all time frames, and well above over average the medium-term.
The only true failures were during the financial crisis when it looked like stocks were bottoming and investors moved in, then that bottom fell out. Otherwise, the average gain in next month was +2.5%. Over three months the average gain was +5.9%, and over 12 months was +12.4%.
***
The Powell Shuffle
DataTrek Research has some valuable insights and takeaways from the Fed meeting that concluded on Wednesday afternoon:
"Fed Funds futures now discount another rate cut this year, but only by a narrow margin." October meeting contracts make the odds of a rate cut here at 45%, down from 51% a week ago. December contracts put 59% odds that the Fed will cut rates once more in 2019. A week ago, this market was putting decent odds (27%) on two cuts by year-end. That is down to just 11% today.
All this means to say that the Fed Fund futures have weakened its stance that the Fed will be aggressive in the final two meetings of 2019.
"Chair Powell acknowledged several times that the current global macro environment is 'challenging' for central banks, which must make 'difficult judgments'". He took pains to emphasize that the Fed is not on a "preset course" of rate cuts and no longer gives guidance about any "bias" for further action. At the same time, he expressed a person preference to proactive rate cuts if conditions begin to weaken.
"Powell has looked more uncomfortable at every meeting this year." I don't think that's from political pressure. Powell's private sector experience means he has dealt with his fair share of personal attacks. Rather, he knows that there is simply no central bank playbook for trade war uncertainty.
"What Powell wanted to say but couldn't: 'If there is a trade deal soon, we're done cutting rates.'" The flip side of that statement is, "If there isn't one for a year or more, we'll keep cutting and hope a non-U.S. recession doesn't spill over to America." In response to a question about why markets expect another rate cut this year, Powell did say macro risks are "heightened" just now.
"[Powell] did say, 'we'll learn a lot in the next six weeks', implying that the U.S./global economy is close to a tipping point." That fits with our general view that market volatility is not yet in the rearview mirror.
***
The Quant View
SentimenTrader.com analyst Jason Goepfert looked at the energy market disturbance Monday as a "shock day." He likes to look at shock days in different assets as they can be the kind of move that triggers a sentiment change among investors.
To define a shock, he uses a market's one-day percentage change relative to other one-day changes during the past year, adjusted for the standard deviation of those moves.
Monday's move in oil certainly qualifies, at more than five standard deviations outside the norm. When this happened in late December 2018, it positively changed the trajectory of the market, though there were a whole lot of other factors contributing to that one.
Goepfert studied how this kind of move has tended to impact the forward returns of the Energy Select Sector SPDR Fund (XLE). He focused on times when front-month oil futures jumped more than four standard deviations in a single session, while that market had been in a general downtrend.
This tended to be a very good sign for these stocks. With only one exception, stocks rose over the next two to three months.
The forward risk/reward was abnormally positive. In the ten instances since 1986, the SPDR Energy was up an average of +3.8% two weeks later, then +7.8% three months later and +15.6% a year later.
Furthermore, Goepfert notes that move comes at a fortuitous time for the sector. As a percentage of the S&P 500, energy stocks now make up less than 5% of the index for the first time ever.
So, we have some solid reasons for optimism amid the Fed power shuffle. I'll keep you posted with updates, so stay tuned.
Best wishes,
Jon D. Markman