Autonomous Vehicles
Luxury cars go all-in on electric propulsion
Listen closely.
It's the sounds you don't hear that count.
And all this quiet tells us that the electric car revolution is happening.
Balding and mustachioed, Dieter Zetsche does not look the part of a futurist. Still, the Mercedes-Benz chief is pushing the 92-year-old automaker headlong into the future.
The internal combustion engine is on its way out, and it's a big opportunity for investors.
Not just big — this is downright electric.
Electric propulsion has been softly creeping up on us for years. Before to the new millennium, the Toyota Prius was a hit among the Sierra Club set. A decade later, Tesla (TSLA) pushed the market beyond green patrons with a fleet of no-compromise electric vehicles.
More recently, a Tesla SUV raced past a $530,000 gas-swilling Lamborghini in Palm Beach, Fla. And in Seattle, I commute on an electric performance motorcycle made in Santa Cruz, Calif., called the Zero S.
Electric has also piqued the interest of luxury car-markers.
In addition to Daimler's (DDAIF) 2019 Mercedes EQC, all electric SUV …
Porsche is bringing Taycan to market. The head-turning, swooped, stretched Targa sports car looks more concept than reality.
These vehicles are not supposed to be for soccer moms. They are designed for eye-stabbing flashes of neon light. They beg for drivers with a heavy foot.
Related story: Porsche's Electrifying New 'Mission'
They are being called Tesla-killers, but this characterization misses the point …
The Silicon Valley car-maker is an easy target. It has been plagued with production woes since inception. It can't keep top brass, and Elon Musk, its brilliant chief executive, is an emotional mess who's eager to please. Too often, the result is overpromise.
The Germans, on the other hand, are promise-keepers. They know how to make cars.
But they are not going to kill Tesla — at least, not intentionally.
In a way, they are surrendering to Musk's vision of the future of cars. They are migrating production to electric propulsion.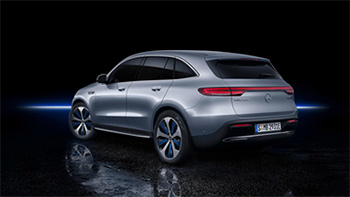 Mercedes plans to start delivering its EQC to U.S. drivers in 2020. This all-electric SUV will have a range of about 223 miles and can — along with electric cars from BMW, Porsche, Jaguar and other brands — charge on Volkswagen's $10B charging network.
Zetsche says the EQC is the first vehicle of the next generation of Mercedes. He says the company has no choice but to go all-in on electric propulsion because they are cheaper to operate, more-efficient and fun to drive.
Mercedes is investing $12 billion on the conversion. It will begin building EVs in six plants, on three continents. By 2022, the company will have 10 EV models, touching every part of its product line, from tiny subcompacts to large SUVs.
In March, Automotive News reported Volkswagen, the world's largest carmaker by volume, will begin making EVs in 16 factories. By 2025, there will be 80 new EV people-movers.
Ford (F) will spend $11 billion on vehicle electrification. The company that brought the world the Model T plans to have 40 hybrids and EVs in its product line by 2022.
Chief executives at automakers across the globe are talking without speaking. Large investments in electrification indicate the future of motor vehicles will be electric. Investors will be wise to look past zero-sum game theories.
The market for EVs is set to grow exponentially. An entire new ecosystem is evolving.
Car-makers aren't investing billions in this trend unless they think it will pay off big-time. And you can bet on any of their stocks. Or you can propel your portfolio higher by shifting into one company that makes these modern power systems possible.
Monolithic Power Systems (MPWR) designs the integrated circuits to make the power systems more efficient. This might seem like a like a small thing. But as cars and trucks move to electric propulsion, every efficiency becomes magnified.
Today, cars have an average of $350 worth of semiconductor content. Consumers take for granted their vehicles with their modern infotainment systems, safe lighting, advanced driver assistance systems and smart electronic devices.
However, USB charging, electric mirrors, power seats, HVAC systems and LED light all use sophisticated integrated circuits. And the cameras, light-based radar and ultrasonic sensors necessary for the next generation of self-driving cars will only increase IC use.
All of these will benefit from reduced power consumption.
Monolithic is currently working with every major auto parts supplier in the world. Through Delphi, Bosch, Panasonic Automotive, Magna and Mitsubishi Electric, the company reaches end customers such as Ford, Nissan, BMW, Mercedes, GM, Volvo, Toyota and Volkswagen.
Related story: Car-makers want to sell you a subscription
The company reported revenues of $139.8 million, for the second quarter ended June 30, a gain of 24.6% over a year ago, with gross margins of 55.4%. In 2017, sales surged 21.7% to $471 million, year-over-year.
Monolithic is a quiet company. Don't be fooled. As cars go electric, its shares are set to scream higher.
Best wishes,
Jon D. Markman