Digital Transformation
Target Software, Not Sensors, for IoT Success
The "hive mind" is science fiction utopia — a smart system that connects absolutely everything … even items previously believed to be fundamentally disconnected.
But the kicker is that the concept is no longer relegated to sci-fi stories.
Over the next decade, the Internet of Things (IoT) promises to connect every tangible item and every person in an immersive web of dynamic intelligence. It will yield stunning productivity, as well as environmental, medical and human benefits.
It's also one of the most lucrative investment opportunities of our lifetimes.
With such massive changes coming, you would think it would be easy to figure out how to take advantage. Most white papers at think tanks focus on the connectivity of things, such as network equipment and sensors.
Yet most of the value of this brave new world will be in the software that compiles, analyzes and instantaneously leverages the data collected by billions of sensors.
Just look at Tesla Inc. (Nasdaq: TSLA). Founder and CEO Elon Musk can charge what he does for the latest models of his electric vehicles, not because green transportation is so highly valued, but because of the value of the software inside those vehicles.
Every Tesla vehicle is constantly sending new usable data to the company's servers. Network learning means that when one vehicle learns how to navigate a winding road in Malibu, California, every Autopilot-enabled vehicle gets the same capability.
Related Post: Tesla is Winning the Race for Autonomous Cars
When consumers purchase a Tesla, they're not just paying a pretty penny for a car — they're making an investment in the software that will bring them ever closer to a true autonomous vehicle (AV).
That's the key. Sensors are not enough. Sensors merely collect data. It's when they're connected to machines, connected to real-time software, that the magic begins.
IoT is what can make it happen.
But these advances aren't reserved for high-tech concepts like self-driving cars. IoT solutions can help push the digital transformation forward in any number of sectors.
Take healthcare, for example. Veeva Systems Inc. (NYSE: VEEV) makes real-time, cloud-based software to help enterprises manage customer service, sales, marketing, commerce and analytics.
That might not seem impressive … especially considering there are plenty of competitors. However, the pharma and biotech sectors are highly regulated. The software developed by Veeva includes automated regulatory filing, which has become crucial to business efficiency industrywide.
In other words, Veeva is using its connected software to stay head and shoulders above said competition. It's built a big barrier to entry using IoT solutions.
Related Post: 5 Digital Transformation Winners
The size of the potential IoT market could be huge. While a lot of progress was put on hold in response to the COVID-19-related shutdowns over the past year, the IDC predicts a back-to-double-digit growth rebound is expected, with a compound annual growth rate (CAGR) of 11.3% between 2020 and 2024.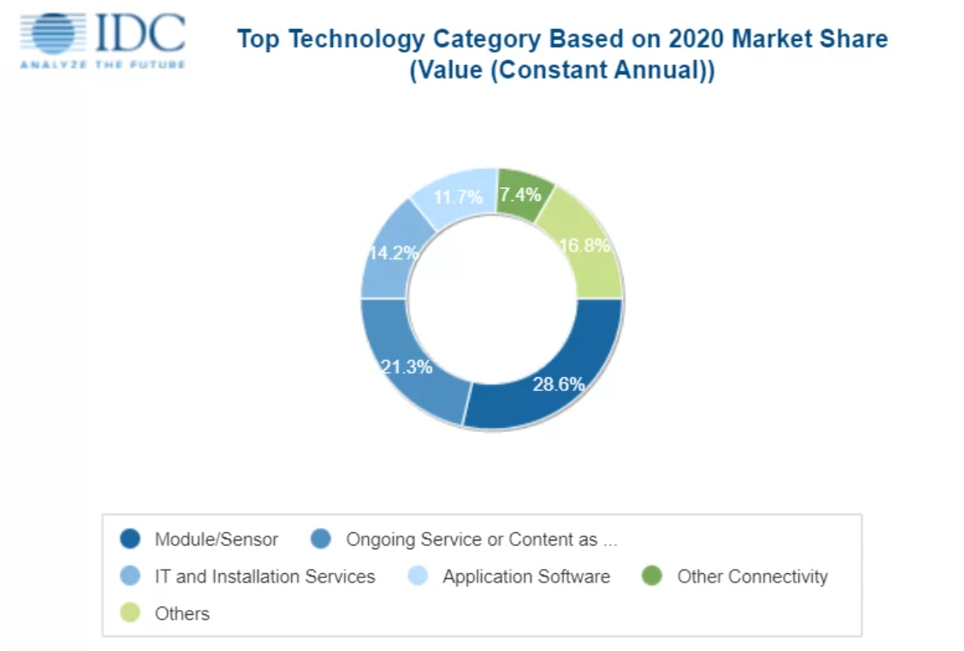 Source: IDC Worldwide Internet of Things Spending Guide 2020 | May (V1 2020)
As the paradigm shift continues, many old business models will be upended … leading to new services, products and industries.
Naysayers are wrong about the Internet of Things because their focus has been on the things, the machines.
But the power and promise is leveraging data.
Sensors, machines and real-time analytics mean we're entering an era where reaction times will be shorter than at any time in history.
Businesses will have the ability to predict and remedy potential problems in real time. That state of total awareness is going to lead to unprecedented control over resources … and opportunity for investors.
Best wishes,
Jon D. Markman