Apple
TV+: Apple's Future Depends Upon This Dramatic Moment
For better or worse, Apple (AAPL) is becoming a legitimate services company.
On Tuesday, execs revealed a trio of new iPhones for the second year running. But it was the aggressive pricing for its TV+ service — which is coming just six weeks from now — that stole the show.
It makes sense. Apple is a long way behind the competition.
Netflix (NFLX) ($12.99 per month) is the undisputed king of video streaming. The Los Gatos, Calif., company has been around since 1997, but it wasn't until 2010 that managers made the jump from mail-order DVD rentals to internet streaming.
They had to build streaming infrastructure, then figure out a way to build a library of content. It wasn't easy, but Netflix created the entire industry that it now rules.
By 2012, Netflix had 29 million paying customers. Worldwide subscribers reached 139 million at the end of 2018, and Variety reported in January that the company is expected to spend $15 billion developing original content in 2019, a 25% increase over 2018.
It isn't just Apple that's coming for Netflix's customers. Disney (DIS) ­­­has been meticulously planning its streaming network for years …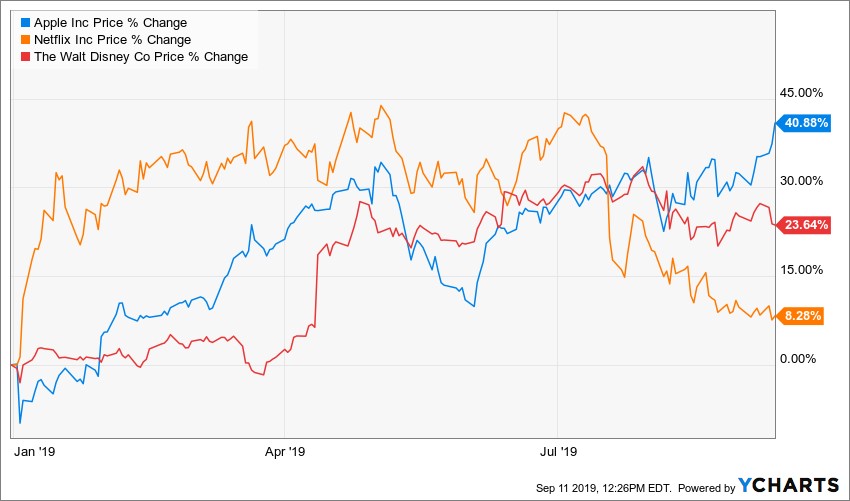 Streaming profits: Apple is up almost 41% year-to-date. Netflix is up 8.3% and Disney is up 23.6%.
Disney started by taking a minority stake in BAMTech LLC, the streaming technology company that brought seamless live Major League Baseball to the web. You might know BAMTech by its new name, "Disney Streaming Services."
The House of Mouse bolstered its video library with the $71.3 billion acquisition of 21st Century Fox, and $5.8 billion bid to take full control of Hulu, and its 28 million streaming subscribers.
When Disney+ ($6.99 monthly) launches Nov. 12, its catalog will have the streaming rights on many of the most popular films and TV shows from the past three decades.
From "Star Wars," "Avatar," Pixar and the Marvel studios franchises, to "The Simpsons" and Disney classic animated films, they're all locked in.
Meanwhile, a bunch of smaller streaming players have found niches, too …
HBO Now ($14.99), home to "Game of Thrones" and "Westworld," is a Sunday night juggernaut.
Showtime ($10.99) pushes the envelope with provocative dramas like "Shameless" and edgy documentaries.
CBS All Access ($5.99) and Starz ($8.99) have found a market with racy dramas like "The Good Fight" and "Outlander."
To catch up, Apple is breaking the bank. The Financial Times reported in August that Cupertino will spend $6 billion producing original TV shows and movies. "The Morning Show," a show about an aging TV personality, featuring Jennifer Aniston, Reese Witherspoon and Steve Carell, has a budget of $15 million per episode, according to FT. For perspective, that's a bigger budget than "Game of Thrones."
And there is more, presumably costly, content coming from Oprah Winfrey, Steven Spielberg and Jason Momoa, the star of "Aquaman," DC Comics' summer blockbuster.
It's not the first time Apple has heavily leaned on stars to sell its wares. Celebrity endorsers from Bono to Drake have hawked new iPhones and Apple Music. Relative to the competition, those products were unapologetically pricey.
Apple TV+ will debut Nov. 1 in 100 countries for $4.99 per month. Better still, if you buy an Apple device, you'll get a year of the streaming service for free.
Most TV+ shows will have three episodes ready for viewing at launch, with one new episode rolling out each week, according an Apple blog post.
Many shows will be dubbed in 40 different languages. Eight offerings will have audio descriptions.
It would easy to chalk up the very un-Apple pricing as the company simply being late to streaming …
That's not it. Managers have made a choice.
They are going all-in on services, and they can't afford to miss with TV+.
The deluge of competition, especially Disney+, could have left the Apple offering dead on arrival. Cupertino needed to ensure TV+ has a fighting chance.
Video streaming is even more important than Apple Music because the company gets to own a library that can be streamed again and again.
Build it once, monetize it forever — without giving up the lion's share of fees to record labels.
But there are dangers. And they are rooted in Apple's vaunted ecosystem.
For now, TV+ customers will need an iPhone, iPad, Mac or Apple TV with the latest operating system. The company plans to bring the service to Samsung smart TVs, Amazon Fire TV, LG, Roku, Sony and Vizio TV platforms in the future.
That's a missed opportunity …
After all, the secret to Netflix's success is ubiquity. From game consoles to the web to mobile operating systems of all stripes, if you want to watch Netflix, it's as easy as tapping an app. Infrastructure is a legitimate competitive advantage.
To succeed in streaming services, Apple will need to stretch beyond its ecosystem.
That may be too far outside of managers' comfort zones.
Best wishes,
Jon D. Markman